Niagara Dance Academy
Niagara Dance Academy stands out as a renowned dance institution situated in Niagara Falls. Niagara Dance Academy is one of the Three Best Rated® Dance Schools in Niagara Falls, ON.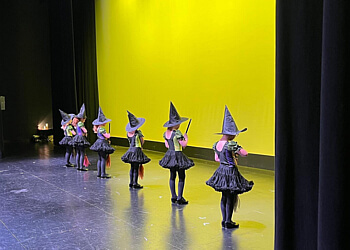 Responsible for its operations is Gail Filipchuk, serving as the owner and overseer of the academy. The academy adopts a professional, structured, and empathetic approach to dance, fostering an atmosphere that is both enjoyable and family-oriented. All classes at the academy prioritize not only physical advancement but also discipline, coordination, and self-assurance. Certified dance instructors lead each lesson with expertise, emphasizing professional teaching standards. With a comprehensive range of classes spanning various ages and styles, the academy prides itself on imparting correct techniques to every student, regardless of whether they pursue dance recreationally or competitively. At the core of Niagara Dance Academy's philosophy is the belief that dance is more than just a physical pursuit; it is a means of self-expression and personal evolution. The academy's primary objective is to cultivate a genuine passion for dance among its students and equip them with skills that extend beyond the studio, fostering growth in both their artistic and personal lives.


Private lessons
Studio Rental for Birthday parties.
CLASSES: Pre Ballet

Tap

Tiny Triple Threat

Classical Ballet Technique

Pointe

Jazz

Hip Hop

Contemporary

Creative Movement

Tap Technique and Rhythm Classes

Lyrical

Musical Theatre & Acro Dance Classes
We just had my daughters 6th birthday party here and it was FANTASTIC. They decorate the room, provide cups, plates and cutlery for you and they even host for you! Our theme was 'POPSTAR' and our dance instructor Sydney was in full costume teaching the kids a hip hop dance (you choose the dance style). All the kids were constantly engaged, they practiced in the party room and then preformed in a studio lit up with multicolored LEDs which was super fun! I have a 6 month old baby and having the host was critical in the success of this party. We booked with Gail through a Google search and the process was so easy! She was very on top of the communication and made the experience stress free! Not to mention Little Ceasars is 3 units down from this location so pizza was hot fresh and we could pick up quickly. I can't say enough great things about them, it was just all around a great day and they made the birthday girl feel ever so special and she will never forget this party!.
This is a great school The teachers are amazing and great with the kids. I have 4 children that go here and have been with this studio for 5 years I would recommend this studio to everyone that wants a place for their children to be safe and feel like they matter.
NDA truly is a wonderful studio where it feels like our 2nd family. Positivity and tons of encouragement is provided to all students, rec and competitive. The staff genuinely care about their students and provide positive encouraging feedback to help students grow in their technique. We LOVE our NDA family.
Private Lessons $60.00 per hour
Mon-Fri: 3:30pm – 9pm
Sat: 9:30am – 3:30pm
Sun: Closed
Nearby Dance Schools in Niagara Falls: