Nettoyeur Écologique Royal
Nettoyeur Écologique Royal, is an eco-friendly dry cleaning service based in Montreal, QC. Nettoyeur Écologique Royal is one of the Three Best Rated® Dry Cleaners in Montreal, QC.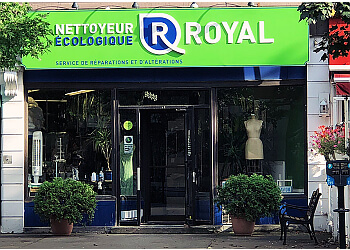 They employ state-of-the-art technology referred to as Professional Wet Cleaning or Smart Wet Cleaning. As a Green Business Certified establishment, they have earned a place among the top 3 dry cleaners in Montreal. Their motto centers around providing unparalleled customer satisfaction. At Nettoyeur Écologique Royal, their skilled garment care specialists utilize the finest and gentlest products available in the market today. The shop specializes in cleaning and preserving wedding dresses and bridesmaid gowns. With the help of state-of-the-art German equipment, they can safely clean garments that carry the traditional "dry clean only" label. The staff at Nettoyeur Écologique Royal is highly trained, licensed, and skilled. Every piece of clothing undergoes a thorough and detailed examination to ensure top-notch care. The shop also offers various repair services, ranging from minor alterations to significant tailoring, understanding the significance of a garment's appearance and putting pride and care into each item. When dealing with stains, At Nettoyeur Écologique Royal, stains receive treatment prior to undergoing expert wet cleaning. This is followed by personalized hand pressing and meticulous finishing processes. The dress will be examined by their skilled in-house seamstress, who possesses a vast experience in Bridal attire. If any tears or slight rips are found, they will be repaired without any additional cost. They are also serving in Verdun, QC.


30 years experience
Chemical free
No toxic ingredients
100% biodegradable organic soaps.
Mens

Ladies Evening Wear

Couture

Home Decor

Uggs

Alterations

Curtains

Purse

Pillows

Jackets

Coats

Skirts

Duvets

Wet Cleaning

Bedspreads

Formal

Shirts

Pants

Sporting Goods

Tablecloths

Evening

Handbag

Area Rugs

Prom

Mother of the Bride Dresses

Leather

Suede

Cushions

Pressing & Stain Removal
I get my dry cleaning done at this place and every time it has been great! The people who work here are friendly and the place feels welcoming! They have always delivered as promised on time! We get our winter jackets dry cleaned here and they always do such a good job. The prices are fair! They also have a seamstress. I get my alterations done here as well and also very good work! Would definitely recommend this place.
Researched a list of potential cleaners for a delicate garment, and I settled on this cleaner. Friendly owner, who answered my questions and very quick service. Dropped off on a Saturday afternoon and garment was intact, clean and ready by Monday. Highly recommend for any cleaning services...thanks!
Super good dry clean on my wife's wedding dress, will recommend to anyone I know. Even threw in a complementary protection sleeve and gave advice for storage when I picked it up!
Mon-Tue: 8am - 3pm
Wed-Fri: 8am - 6:30pm
Sat: 9am - 5pm
Sun: Closed
Nearby Dry Cleaners in Montreal: