Nettoyeur Unique Express
Nettoyeur Unique Express, is a renowned dry cleaning business in Montréal, QC. Nettoyeur Unique Express is one of the Three Best Rated® Dry Cleaners in Montreal, QC.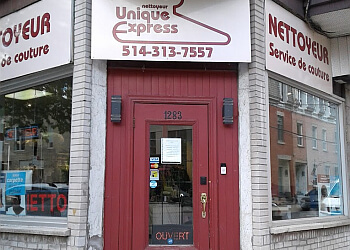 They have earned a reputation for being the go-to cleaner in the area. Their team stands prepared to address all inquiries and handles each project with the level of professionalism that their clients anticipate. Nettoyeur Unique Express can rejuvenate your carpets and make them look brand new. Additionally, they excel in repairing various clothing items, ensuring they can be cherished for a long time. Nettoyeur Unique Express provides an unmatched dry cleaning experience along with a tailor-made on-site alteration service. They fix various types of clothing that you wish to preserve for an extended duration. You can trust Nettoyeur Unique Express to meet and exceed your needs and expectations. They also specialize in carpet cleaning allowing them to provide competitive prices and comprehensive carpet cleaning solutions.


Open for 16 years
On-Site Alterations
Fast and Efficient.
Sweaters

Boots

Skirts

Drapery

Shirts

Rugs

Coats

Caps

Stain Removal

Dresses

Capes

Comforters

Jackets

Carpets

Pants

Household Items

Wedding Dress

Quilts Services

Suede

Suits

Leather

Alteration

Clothing Repair & Carpet Cleaning
Best in Town! I must say they are absolutely the best in town! As a customer, I highly recommend their services for their outstanding quality, kindness, and their wonderful family-owned atmosphere. From the moment I walked in, I was greeted with warm smiles and genuine hospitality. One aspect that sets them apart is their flexibility. On a particularly busy day, I was unable to drop off my clothes during regular business hours. To my surprise, they graciously accommodated my needs and allowed me to come in and leave my clothes after closing hours. This level of convenience and understanding is truly commendable.
Agreed - best in town. Friendly, hospitable. Spent an hour online checking every place in the city and decided put faith in their high ratings. Trusted them with my new white dress shirt. Excellent work.
Family owned shop. Great people. Great prices. Quick turnaround in clothes and they actually make an effort in getting to know your name.
Mon: 10am - 6pm
Tue -Thu: 9am - 6:30pm
Fri: 9am - 6pm
Sat: 9am - 5:30pm
Sun: Closed
Nearby Dry Cleaners in Montreal: