First Glance Limousine Service Ltd.
First Glance Limousine Service Ltd. First Glance Limousine Service Ltd. is one of the Three Best Rated® Limo Service in Ajax, ON.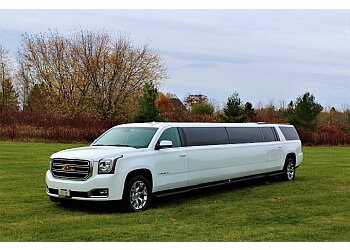 stands as a prominent and widely recognized limousine company nestled within the community of Ajax. Their area of expertise centers around weddings, and their familiarity with diverse cultures and traditions ensures that your special day is adorned with enduring and cherished memories. At the heart of First Glance Limousine Service's identity is its commitment to elevating weddings to a realm of unmatched splendour. This commitment is underpinned by a profound understanding of various cultural nuances and rituals, guaranteeing that your wedding experience is authentic and meaningful. Elevating their offerings are some of the most exquisite limousines the industry offers. These vehicles are complemented by exceptional service, delivered by chauffeurs who epitomize professionalism, courtesy, and knowledge. They are more than drivers; they are ambassadors of your special day. First Glance Limousine Service places immense value on the first impression it creates, recognizing that this singular opportunity is pivotal in affirming that you've chosen wisely. The aim is to provide a service and craft an experience that aligns with your vision. Every occasion is elevated through their exceptional service, each interaction contributing to a tapestry of delightful memories. The availability of weekly specials adds a layer of affordability and accessibility. By initiating contact with First Glance Limousine Service, you open the door to crafting an unforgettable day. Your special occasions are poised to become a repository of cherished moments through their specialized services.
Weddings

Pre Engagement

Pre-Wedding Galas

Airport Travel

Wake up Calls

Meet and Greets

Day at The Spa

Evening Out

New Home Purchases

New Born Baby Celebrations

Christenings

Anniversaries

Semi-Formals

Concerts

Bat Mitzvahs

Sporting Event

Dinner

Birthdays

Theatre

Proms/ Semi Formals

Bachelorettes

Funerals

Livery

Retirements

Wine Tours

Bridal Showers

Graduations

Corporate Transportation & Golf Course Transfers
Dealing with the office staff was easy, they walk you through all the paperwork. Limo arrived early the day of event. Driver was very professional and friendly, even had a red carpet for the clients. A special added touch for prom night. Car was clean. Driver was available for any changes to pickup times. Worked with clients to make the experience a memorable one. Would highly recommend to anyone needing a reliable limo service. Company gave you the feeling of appreciating my business.
We hired First Glance for our wedding and were beyond impressed with the smoothness of the entire experience. From the time of our first inquiry, all of our messages were responded to promptly and in detail, and the booking process was very easy. Our driver was courteous, professional, punctual to every destination, extremely friendly and even anticipated our needs (like bringing water and an umbrella to the photo shoot location because it was staring to look like rain). The limo we rode in was beautiful and immaculately clean. First Glance definitely made our special day a little bit more special! We will absolutely use First Glance again next time we need a limousine service.
I didn't even bother calling other places. I found what I wanted with Mardy. He was customer service focussed, had a professional approach to running the business and provided me with constant communications to address any of my concerns. You can tell that his experience helped to ensure our daughter had a perfect wedding day. He was prompt on the day of the event. Our ladies were happy with the vehicle, the space, the comfort and ambiance. Thanks again Mardy and have a great summer.
Nearby Limo Service in Ajax: