La Serrurerie Desjardins Inc.
La Serrurerie Desjardins Inc. La Serrurerie Desjardins Inc. is one of the Three Best Rated® Locksmiths in Gatineau, QC.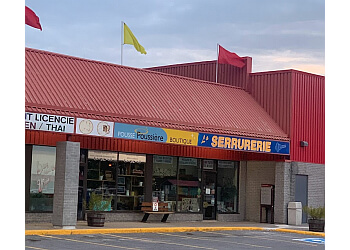 is a family-owned business that specializes in high-security locks and critical systems, catering to residential, industrial, and commercial clients in the Outaouais region. With over 40 years of experience, they provide top-tier products to ensure optimal security and dependable installations in all situations. Their locksmiths offer a wide selection of locks, padlocks, keys, and post boxes, along with a mobile service prepared to assist you with any urgent requests. Additionally, they maintain a substantial inventory of rustic, decorative, and architectural hardware for security systems that are both aesthetically pleasing and trustworthy. Whether you require key cutting, high-quality padlocks, or the expertise of their master locksmiths for on-site repair services, they can fulfill all your residential, industrial, and commercial needs. Don't hesitate to reach out to them today for all your locksmith requirements. Regardless of the size of your company, La Serrurerie Desjardins Inc is dedicated to assisting you with all your lock installations in Gatineau. They offer a range of effective and high-quality solutions to safeguard your properties.


Quality Solutions
Efficient
Experienced Advisors
Team of Professionals
Unparalleled Competence.
Key Change

Locks

Cabinet Handles

Chains

Security Products

Keys Boxes

Keys

Accessories

Decorative Hooks and Key

Doorstops

Door Hinges

Mailboxes

House Number Plates

Sales and Installation

Repair

Master Key Systems

Post Office Boxes

Electric Strike

Digital

Programmable

Electronic Lock Closers and Lock

Laser Car Key

Panic Bars & Postal Boxes

Serving Location:
Outaouais Region
Très bonne entreprise gérée par une famille composée de gens sympathiques. Je me suis permis de modifier les heures pour refléter le fait qu'il y a une affiche dans la porte qui dit qu'ils sont fermés le samedi pour cause de la situation actuelle je crois.
J'ai fait affaire pour une clé partiellement cassée dans une serrure; serrure démontée amené sur place. Service prompt et efficace par la propriétaire à prix raisonnable. Le genre de commerce qui se fait de plus en plus rare malheureusement.
Very helpful and nice, had the exact thing I need when other locksmiths said were no longer used.
Mon-Fri: 9am - 5pm
Sat & Sun: Closed
Nearby Locksmiths in Gatineau: