Serrure Outaouais Inc.
Serrure Outaouais Inc. Serrure Outaouais Inc. is one of the Three Best Rated® Locksmiths in Gatineau, QC.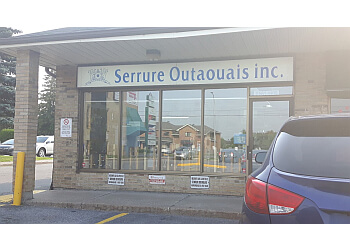 has been a trusted provider of top-quality products and services aimed at enhancing security levels for residences, businesses, institutions, government offices, and vehicles since 1980. Their team of professionals excels in selling, installing, servicing, and repairing various brands and types of locks, safety deposit boxes, safes, and door hardware. They are also adept at designing, implementing, and managing master key and controlled key systems. They possess official certification and hold esteemed recognition as a certified Locksmith Agency, accompanied by a valid permit issued by the Bureau de la sécurité privée [BSP]. In addition to their extensive locksmith offerings, Serrure Outaouais Inc. stands ready to assist with emergency lockout services, available 24/7. Their certified team is duly recognized by the Bureau de la Sécurité privée, ensuring their commitment to security and professionalism. When in need of emergency unlocking services, you can rely on Serrure Outaouais Inc. around the clock.


Top Quality Service
Emergency Unlocking Service
Efficiently
Certified and Recognized
Affordable.
Padlocks

Controlled and Registered Key And Master Key Systems

Door Hardware

Hinges

Hole Covers

Chains

Rekeying

Repair

Electromagnets And Electric Strikes

Knobs

Levers & Grip Sets

Deadbolts & Locks
Very good service and very good advice. I was looking for a really good outdoor padlock. They recommended one to me that is more than very good and won't get rusty. They also recommended a lubricant made specifically for padlocks and all types of locks. The total was a little expensive, but considering the quality of both products, it is more than worth the cost.
Malgré qu'il n'était pas disponible pour venir m'aider sur place, on m'a donné des bons conseils pour essayer de débarrer la porte et des références pour un autre fournisseur. On ne m'a pas laissé malpris et le personnel était très serviable et patient.
Service extraordinaire, Guylaine a fait des pieds et des mains pour me trouver un trou le plus rapidement possible!!!!
Mon-Fri: 8am - 5pm
Sat & Sun: Closed
Nearby Locksmiths in Gatineau: