Simcoe Therapeutic Massage
Simcoe Therapeutic Massage stands at the forefront of massage centers in Norfolk, taking pride in delivering Registered Massage Therapy services since 2011. Simcoe Therapeutic Massage is one of the Three Best Rated® Massage Therapy in Norfolk, ON.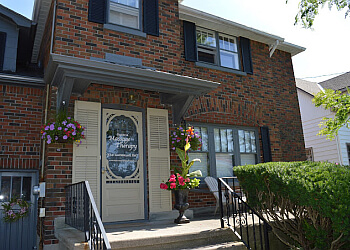 Within their establishment, you'll find a team of highly skilled therapists boasting an impressive 18 years of collective experience in massage therapy. Their mission is to address the soft tissue discomfort often stemming from the rigours of everyday stress, muscular overuse, and various chronic pain conditions. To achieve these objectives, they offer diverse modalities and specialized treatments, including trigger point therapy, joint mobilizations, deep tissue massage, and therapeutic exercises. Through their unwavering commitment to excellence, Simcoe Therapeutic Massage consistently aims to provide clients with the highest standards of care, ensuring their well-being remains the top priority.


Wellness Advocacy
Holistic Approach
Accessible Wellness.
Stress

Headaches

Muscle Strains

Swedish

Joint Mobilizations

Shoulder

Deep Tissue Massage

Neck & Head Massages
I've been getting therapeutic deep muscle massage across Ontario for over 20 years - mostly for stress management, relaxation and general health, but also problems due to pulled muscles, aging, and repetitive use.Julie Leatherland, RMT is the best practitioner to date. She can manage a light touch as well as really working into the larger muscles. Facility is clean and welcoming, relaxing and conveniently located. I will return and return - for as long as she stays in business! A+
Julie is the best massage therapist I have ever visited. She is highly professional and her business is always clean, comfortable and welcoming.
Got my mother in law in for a massage in good time others I called could not or would not fit her in she enjoyed massage and what Marcy had expressed to her
Mon: 1pm - 8pm
Tue: 2pm - 8pm
Wed: 9am - 3pm
Thu: 11am - 7pm
Fri: 9am - 2pm
Sat & Sun: Closed
Nearby Massage Therapy in Norfolk: