Déménagement Le Clan Panneton
Déménagement Le Clan Panneton is one of the premier moving companies in Montreal, Quebec, boasting over 40 years of experience in the industry. Déménagement Le Clan Panneton is one of the Three Best Rated® Moving Companies in Montreal, QC.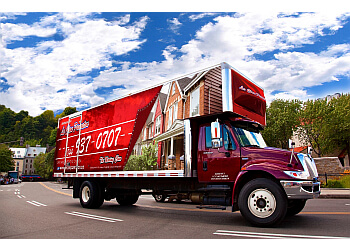 They take pride in offering comprehensive services to facilitate your move, including storage, handling, packaging, and more. Their experienced movers are well-equipped to handle all types of transport and removals, local, long-distance, or overseas. Their versatility ensures you receive a complete, fast, and top-quality service, making your moving experience hassle-free. With a fleet of 100 trucks at their disposal, they are fully prepared to accommodate all types of transports and moves, regardless of the distance or location. In addition to their expert moving services, they also provide storage options and other complementary services to ensure a seamless and efficient move. Their professional movers are highly skilled and efficient, capable of swiftly catering to all your moving needs.


Online Estimates
Onsite Services
Efficient Service
Qualified Movers.
Residential

Commercial

Institutional and Overseas Moving

Post Damage Move

Packing and Unpacking

Storage

Vehicles Storage

Matched Move

Cleaning Services

Specialized Transport

Tips & Advice
Je voudrais souligner le travail efficace et rapide d'un trio dynamique, Simon, Vincent et Louis, qui nous ont déménagé de Montréal à Eastman en un tour de main ce mardi. Ces trois personnes ont de toute évidence une bonne chimie quand ils travaillent ensemble, et ils nous ont démontré que pour eux, exécuter un bon déménagement à la satisfaction du client est une passion. Merci pour ce beau travail et pour ce professionnalisme qui nous a épargné beaucoup de stress.
Wow! Super contente avec mon expérience avec Le Clan Panneton - L'equipe Leduc WO1051. Service professionnel, efficace, polie!
Wo10352 Très satisfaites des services de Guillaume Prévost et Alexandre Therrien du C.P. le 2023.07.28. Très compétents, rapides et serviables.
Mon-Fri: 8am - 9pm
Sat: 8am - 5pm
Sun: Closed
Nearby Moving Companies in Montreal: