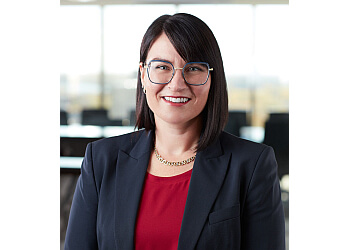 Kanuka Thuringer LLP stands as a well-established business law firm with a longstanding presence in Regina. Renowned for their diverse legal practice, they have earned a notable reputation for their exceptional business advisory and dispute resolution services. Their extensive clientele encompasses a wide spectrum, ranging from local and regional entities to international companies, individuals, non-profits, entrepreneurs, and small businesses. The firm's hallmark lies in their commitment to offering high-caliber services and guidance to assist their clients in achieving their business and personal objectives, all while adhering to timelines and budgets. With a deep understanding of the legal intricacies that Saskatchewan-based businesses encounter, they have consistently provided invaluable general counsel on a myriad of legal matters. ANDREA V. ARGUE, K.C. emerges as a key Partner within Kanuka Thuringer LLP, focusing predominantly on corporate and commercial law, real estate, business organization and succession, estate planning, and estate administration. Her expertise encompasses a wide range of legal domains crucial for businesses and individuals alike. Kanuka Thuringer LLP's enduring presence, diverse legal expertise, and dedication to client success position them as a vital legal resource in Regina. Their commitment to fostering positive outcomes for their clients underscores their significance within the legal landscape.

UNIQUE FACTS:
• Andrea Is a Member of The Saskatchewan Bar
• Presented on A Number of Professional Topics.
Specialty:
Incorporation and Creation of Other Entities, Advising Directors on Potential Liabilities, Return Filing and Maintaining of Corporate Records, Registration of Corporations, Acting as The Local Registered Office, Working Closing with Accountants and Other Professionals, Structure and Document Corporate Reorganizations, Amalgamations, Continuances, Dissolutions and Restorations, Winding-Up and Dissolving Corporations, Preparing Trust Deeds, Partnership Agreement and Incorporating Not-For Profit Corporations

ADDITIONAL PRACTISE AREAS:
Criminal Law, Estate Administration, Family Law, Residential Real Estate, Wills & Estate Planning
Contact:
Working Hours:
Mon-Fri: 8am - 5pm
Sat & Sun: Closed
TBR® Inspection Report: