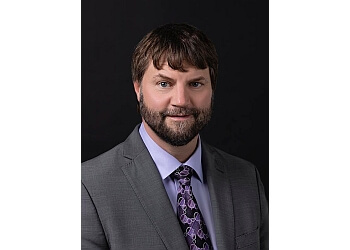 Bradley Smith is a highly reputed civil litigation lawyer based in Edmonton, specializing in Civil Litigation, Criminal Defence, and Divorce Law. His practice is diverse and covers various areas of law, allowing him to offer comprehensive legal services to his clients. With an impressive track record, Bradley has effectively represented clients before significant courts, including the Federal Court of Canada, the Court of King's Bench of Alberta, the Court of Appeal of Alberta, and the Provincial Court of Alberta. He is a partner at the esteemed Verhaeghe Law Office, an established law firm in Edmonton with a legacy dating back to the 1940s. The firm has been providing expert legal advice to clients in Alberta for many years, particularly excelling in civil litigation suits. They are dedicated to resolving disputes between parties and ensuring that clients in Edmonton receive the highest level of service from experienced litigators. Verhaeghe Law Office takes great pride in guiding clients through complex areas of civil law and family law, simplifying the process and ensuring that clients understand the procedures and status of their cases. With a commitment to transparency and client care, they offer reliable and dependable legal assistance to those seeking assistance in Edmonton.

UNIQUE FACTS:
• A decision of Bradley's also got picked up by Thompson Reuters
• Associations: Canadian Bar Association, Civil Litigation and Construction Sections.
Specialty:
Civil Issues, Negotiation, Mediation, Arbitration, Procedural and Substantive Law, Child Adoption Barriers (Same-Sex Partners), Negligence or Insobriety,

ADDITIONAL PRACTISE AREAS:
Criminal Defence and Family & Divorce Law
Awards:
Contact:
Working Hours:
Mon-Fri: 8:30am - 12pm|1pm - 4:30pm
Sat & Sun: Closed
TBR® Inspection Report: