JustCallDave.ca Computer Repair
JustCallDave. JustCallDave.ca Computer Repair is one of the Three Best Rated® Computer Repair in Moncton, NB.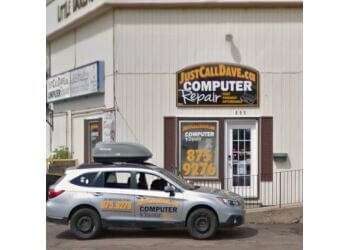 ca Computer Repair, situated in Moncton, is a trusted destination for computer repairs. With over fifteen years of experience in the field, Dave excels in repairing computers of various makes and models. He has also broadened his expertise to include custom PC builds, laptop and Mac repairs, as well as servicing desktops, consoles, projectors, TVs, monitors, and musical equipment. Dave takes pride in delivering swift and efficient service to all his customers. Moreover, JustCallDave.ca Computer Repair offers a complimentary diagnostic service for both desktop and laptop PCs. Rest assured, their team is 100% qualified, certified, and fully insured to provide you with peace of mind.


Free diagnostics
Great service.
Computer Repair

Diagnostics

Solder Jobs

Custom Build PC

Slow Computer Issues

iMac

MacBook

Laptops

Backup Solutions

Computer Tune-Up

System Optimization

Software Issues

Blue Death of Screen

Overheating

General Computer Troubleshooting

Remote Support

Consoles Repair & Corporate Support
Really good. I loved how they have an update system so you always know what's going on with your computer. Dave then called me, explained my options and did something right away. But, I really like the system of messages they have to keep you updated so I won't feel lost. Yeah. Totally recommended.
Dealt with Dave Very friendly and helpful. He fixed my computer issue quickly and affordable I highly recommend Justcalldave.ca You will be in good hands Thanks again.
Dave was our last option to get our computer fixed. It was fixed in a timely fashion and at a great price. He also fixed a phone issue for me. Great people, great service, and great price. I would recommend this company to anyone! Thank you.
Mon-Fri: 10am - 6pm
Sat & Sun: Closed
Nearby Computer Repair in Moncton: