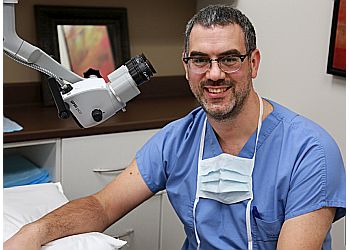 CALL
DR. YANICK LARIVEE - CLINIQUE ORL DE GRANBY
Since 2001
Dr. Yanick Larivée is a highly regarded ENT specialist in Granby, QC, with an impressive 22 years of experience in the field. He has achieved board certification as an ENT specialist by the Royal College of Physicians and Surgeons Canada, attesting to his expertise and commitment to high-quality patient care. He completed his residency at the Université de Montreal in 2001, further solidifying his knowledge and skills in otolaryngology and head and neck surgery. He is particularly known for his proficiency in performing head and neck surgeries and his ability to treat sleep apnea effectively. His gentle and compassionate treatment style sets Dr. Yanick Larivée apart, which helps put patients at ease, even when facing complex operations. His approach minimizes pain and discomfort, promoting a positive healthcare experience. Dr. Larivée currently practices at Clinique ORL De Granby, a facility equipped with advanced facilities to provide world-class treatment to its patients. Patients can trust Dr. Yanick Larivée for his extensive expertise, dedication to patient well-being, and commitment to delivering outstanding ENT care in Granby.

UNIQUE FACTS:
• Specializes in General Otolaryngology and Endocrine Surgery
• Fluent in English and French
• Highly Qualified, Dedicated to Delivering High-Quality Patient Care
• Appointments Can Be Made by Calling Their Telephone Number.
Specialty:
CONDITIONS:
Tinnitus, Snoring, Ear and Throat Infection, Salivary and Thyroid Glands, Earwax Removal, Nose Bleeds, Nasal Congestions, Allergies, Sinus Conditions, Breathing Problems & Hearing Disorders
Contact:
Working Hours:
Mon-Fri: 8:30am - 12pm|
1pm - 4pm
Sat & Sun: Closed
TBR® Inspection Report: