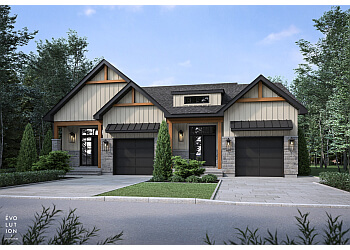 Gestion Marc Breton Construction stands as one of Granby's premier builders, renowned for their extensive portfolio of houses, cottages, semi-detached, and single-story homes. With a rich history spanning over two decades, they have consistently delivered top-quality homes, making them a trusted name in the industry. Their unwavering dedication to high-quality residential projects is complemented by their commitment to meeting established deadlines, ensuring that clients receive their dream homes on schedule. Gestion Marc Breton's design ethos centers on creating contemporary homes that resonate with the preferences of their clientele. Their emphasis on rigorous control at every stage of construction, as well as all components used in building your home, guarantees a level of quality that surpasses industry standards. What sets their builders apart is their ability to develop unique construction methodologies tailored specifically to the distinct requirements of various housing projects within the region. The end result is construction that not only meets but consistently exceeds the expectations of you and every member of your family. Throughout the home construction process, Gestion Marc Breton's builders maintain open communication, ensuring that you are kept informed at every stage of development. Gestion Marc Breton's successful housing projects span across Granby, Bromont, Waterloo, and St-Alphonse, solidifying their reputation as builders who consistently deliver exceptional results across various locations.

UNIQUE FACTS:
• Two Decades of Experience
• Rigorous Quality Control
• Client-Centric Communication
• Contemporary Design Focus.
Specialty:
New Home Construction, Condos, Single-Family Homes, Semi-Detached Houses, Kitchen and Bathroom Remodeling, Interior and Exterior, Renovation & Project Management
Contact:
Working Hours:
Mon-Fri: 8am - 4pm
Sat & Sun: 1pm - 4pm
TBR® Inspection Report: