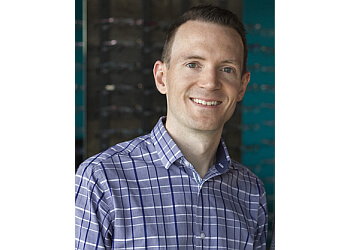 Dr. Joel Schaefer is a distinguished optometrist who graduated with honors on the Dean's Honours List from the University of Waterloo. He received the prestigious RACH Memorial Award, recognizing individuals who exhibit unwavering courage, strength, perseverance, and determination. He specializes in several areas of eye care, including pediatric care, treating dry eye disease, and managing macular degeneration. His training under the guidance of numerous surgeons at the Houston Eye Associates has further enhanced his knowledge of ocular illnesses and his ability to provide comprehensive eye care services for patients of all ages. Modern Eyes Optometry is the practice where Dr. Schaefer offers his services, and it is dedicated to providing complete eye care in a friendly and welcoming environment. The clinic is equipped with state-of-the-art technology that empowers optometrists to detect eye issues early, allowing tailored treatment plans to effectively manage these conditions. Moreover, Modern Eyes Optometry ensures accessibility for all patients with a wheelchair-accessible facility and accessible parking facilities, demonstrating their commitment to serving the diverse needs of their community.

UNIQUE FACTS:
• Free Parking
• Wheelchair Accessible
• Accepted Payment Options: Visa, Mastercard, Interac, Cash
• State-Of-The-Art Vision and Eye Care Centre
• Use Advanced Technology
• Offer Stylish Frames and Personalized Lenses.
Services:
Comprehensive and Emergency Care, Personalized Lenses, Vision Health, Ocular Imaging, Dry Eye, Laser Eye Surgery Consultations, Myopia Control, Diagnostics and Health Assessments, Stylish Frames, Advanced Medical Treatment of Vision Diseases & Contact Lens Service
Discount:
75% Offer the Cost of Lenses on Their Second Pair of Prescription Glasses
10% Offer the cost of an annual supply of Vision Essence
10% Offer the cost of an annual supply of MacuHealth
Contact:
Working Hours:
Mon & Tue: 9am - 5pm
Wed & Thu: 12pm - 8pm
Fri: 8am - 4pm
Sat: 9am - 1pm
Sun: Closed
TBR® Inspection Report: