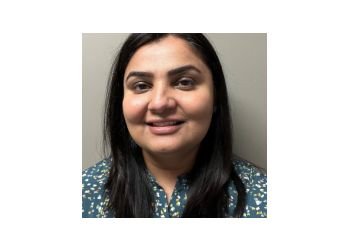 Shreya Shah has been a Registered Physiotherapist in Canada since 2019. She earned her Bachelor of Physiotherapy degree in India, where she gained valuable experience in both community and clinical environments. Shreya's career has encompassed diverse roles, including being a Physiotherapist in workplaces, long-term care facilities, outpatient settings, and various Nurse Practitioner-led clinics within primary care contexts. Her extensive experience extends to treating patients with a range of conditions, including those stemming from motor vehicle accidents, WSIB-related injuries, post-surgical hip and knee replacements, rotator cuff repair surgeries, and musculoskeletal injuries. She is presently engaged in her practice at Pt Health Chatham Physiotherapy. Their facility remains accessible, providing both on-site treatment and virtual care options.

UNIQUE FACTS:
• Pt health-chatham physiotherapy staffs speaks English, Gujarati, Hindi and Punjabi.
• General Parking is available.
• Pt health-chatham physiotherapy's Coverage Options includes Self Pay (Cash/Debit/Credit/Cheque) and
• Health Benefit Plan.
Specialty:
CONDITIONS:
Back and Neck Pain, Joint Pain, Headaches, Strains, Sprains and Tears, Muscle Tissue and Tendons, Cervical Osteoarthritis/Neck Arthritis, Degenerative Disc Disease (Intervertebral Disc Pain), Shin Splints, Achilles Tendonitis, Adult Degenerative Scoliosis, Bursitis, Osteoarthritis, Hip Replacement & Gout

PROCEDURES:
Acupuncture, Active Release Technique (Art), Bracing, Kinesiology, Cupping And Occupational & Massage Therapy
Contact:
Working Hours:
Mon,Wed & Fri: 8am - 5pm
Tue: 8am - 7pm
Thu: 9am - 7pm
Sat & Sun: Closed
TBR® Inspection Report: