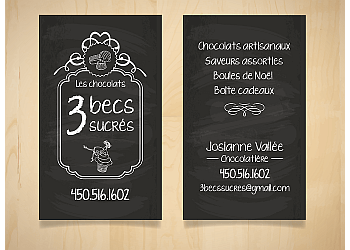 Tosh Design stands out as a leading printing firm in Mirabel, offering a wide spectrum of printing services and advantages, spanning from business cards to window signage. The company employs an efficient, rapid, and contemporary approach to promote your business on a grand scale. Tosh Design possesses the expertise to either craft new logos and graphic guidelines or adapt existing ones to suit all your media needs. They meticulously select their suppliers to guarantee the highest quality standards. Leveraging their creative talents, they enhance your visual identity to help you distinguish yourself from competitors. Furthermore, Tosh Design takes pride in providing prompt and personalized service. Every supplier they collaborate with undergoes careful vetting to ensure top-notch quality. Don't hesitate to reach out to them and obtain a personalized quote for your project.

UNIQUE FACTS:
• Creative, Responsive and Always Good Advice
• Controlled Costs, Quality Printed Matter and Unfailing Responsiveness
• Assured Quality.
Specialty:
Stickers, Banners, Logo Design, Business Cards and Forms, Flyer, Pencils, Poster, Vehicle Lettering and Showcase, Folder, Wedding Invitation, Tickets, Banner, Panel & Brochures
Contact:
Working Hours:
Mon-Fri: 8am - 5pm
Sat & Sun: Closed
TBR® Inspection Report: