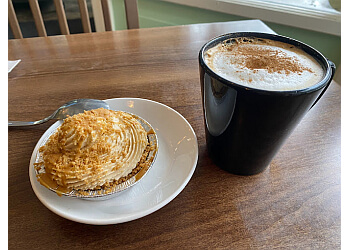 Chess Piece Pâtisserie is the foremost café in Fredericton, New Brunswick, offering a Parisian-style culinary experience. This esteemed establishment is your go-to destination for an exquisite array of desserts, macarons, savoury pastries, soups, sandwiches, and more. At Chess Piece, the commitment to exceptional service and creating mouthwatering, freshly baked delights takes center stage. The dedicated team at Chess Piece Pâtisserie meticulously prepares their delectable fare using the finest seasonal ingredients. With a staff that is friendly, knowledgeable, and ready to assist, you're in for a delightful visit. Indulge in their decadent desserts, all made from scratch daily, and savour them in the cozy café setting or opt for a convenient takeaway. The courteous crews at Chess Piece work tirelessly to create a warm and inviting atmosphere for all visitors, ensuring your experience is both memorable and enjoyable. Beyond the café experience, Chess Piece is equally dedicated to providing excellent service and a constant supply of freshly baked delights. They also extend their expertise to catering services, making them the ideal choice for special occasions and events that deserve a touch of culinary elegance.

UNIQUE FACTS:
• Dine-in
• Takeaway
• Food Delivery
• Gift Cards
• Gluten Free Options
• Dairy Free Options.
Specialty:
COFFEE: Americano, Matcha Latte, MUST TRY DISHES: Muffins, Ham and Swiss Croissants, Vegan Moroccan Chickpea Pie, Chicken Club, Reuben, Garbanzo Mushroom, Quiche, Pains Au Chocolat, Breakfast, Cookies, House Salad, Almond Croissants, Scones, Mushroom and Onion Tart, Bratwurst Sausage Roll, Sandwiches, Harvest Chicken, Cakes, Smoothies, Chicken and Broccoli Pot Pie, Brownie, Eclair & Muffin Of The Day
$Price:
Breakfast Sandwich $5.49
Sandwich $8.50
Quiche $7.99
Sausage Roll $3.25
Scone of The Day $3.60
Eclair $5.75
Croissant $4
Muffin of The Day $2.75
Sticky Buns $4.36
Brownie $5.99
Cookies $2.25

Cake Popsicle $5.40

Contact:
Working Hours:
Mon-Thu: 8am - 5pm
Fri & Sun: 8am - 6pm
Sun: 9am - 4pm
TBR® Inspection Report: