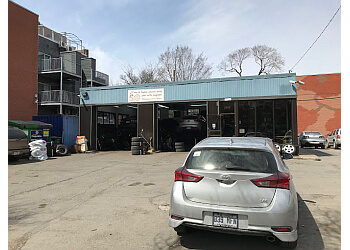 CALL
GEORGE GARAGE
Since 1958
George Garage, a well-established family-owned business, boasts an impressive legacy of over sixty years in the auto repair industry. As a third-generation shop, they bring a wealth of experience and expertise to every vehicle they service. Their unwavering commitment to quality shines through in their use of cutting-edge technology, ensuring top-notch service with each visit. One of the hallmarks of George Garage is their dedication to providing affordable service without compromising on quality. The friendly owners and staff are always ready to assist promptly with your needs, making sure you receive the attention and care your vehicle deserves. Their team of trusted specialists excels in car maintenance and repairs, with expertise spanning general mechanics, tuning, suspension, brakes, mufflers, and air conditioning. Whether it's routine maintenance or intricate repairs, George Garage has you covered. Customers often praise the warm and helpful demeanor of the mechanics and owner, creating a welcoming atmosphere that fosters trust and confidence. For those seeking a quick turnaround, same-day repair services are readily available. George Garage offers excellent repair services at reasonable prices, ensuring that customers receive top value for their investment. For added convenience, they even provide a pickup service, making the entire process as seamless as possible. At George Garage, your vehicle is in the hands of professionals who prioritize both quality and customer satisfaction.

UNIQUE FACTS:
• Auto Repair Shop
• Professional Mechanics
• Car Repair Shops
• Reliable Mechanics
• SAAQ Inspection Repairs.
Specialty:
Fuel and Cooling System, Suspension, Oil Change, Brakes, Focusing and Preventative Maintenance, Power Steering, Transmission Fluid, Tires, Tune-Ups, Shocks, Battery, Replacing Headlight & Fleet Service
Contact:
Working Hours:
Mon-Fri: 8am - 5pm
Sat & Sun: Closed
TBR® Inspection Report: