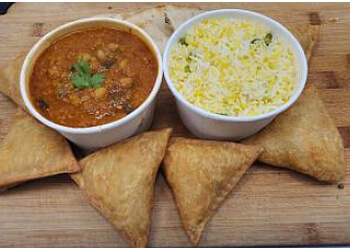 A Fine Balance Catering is a well-respected catering service in Airdrie, owned by Nash. Their culinary philosophy centers on creating fine foods that taste exceptional and, invigorate the senses, and make every bite feel alive. One of their standout dishes is their renowned butter chicken, widely regarded as the best in town. Their commitment to health-conscious cooking, using olive oil instead of butter, sets it apart. Their approach to crafting the finest Indian cuisine involves using high-quality ingredients, and Chef Nash expertly blends fresh spices with care and dedication. A Fine Balance Catering offers a comprehensive range of catering services spanning Western and Indian cuisines. Whether a small office meeting or a grand celebration, they can accommodate your needs, even providing servers, party rentals, linen, coffee, and tea service. Beyond their delicious offerings, A Fine Balance Catering is dedicated to providing its customers with healthy food choices, ensuring that families can savour their meals with pleasure and peace of mind.

UNIQUE FACTS:
• Customized Menu OPtions
• Reasonable Price
• Gluten Free Options
• Vegan Options.
Specialty:
OCCASIONS: Receptions, Corporate Functions, Weddings, Catering for Your Office, Corporate Lunches, CATERING MENU: Medley of Fresh Garden Veggies, Choice of Garlic Mashed Potatoes or Herb Roasted Potatoes, Basmati Saffron Rice or Coconut Rice, Pastries, Squares and Cookies, Coffee and Tea Service, Fresh Fruit Platter & Midnight Snack
$Price:
Silver Dinner Buffet $29.95
Gold Dinner Buffet $36.95
Bronze Dinner Buffet $24.95

Contact:
Working Hours:
Mon-Fri: 11am - 5pm
Sat & Sun: 12pm - 4pm
TBR® Inspection Report: