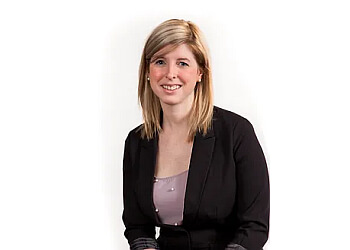 Dr. Marie-Eve Fournier is a well-known chiropractor serving the community of Drummondville. She achieved her Doctorate in Chiropractic from the University of Quebec at Trois-Rivières. Dr. Marie-Eve possesses a particular interest in pediatric and obstetric chiropractic care. In her practice, she conducts comprehensive musculoskeletal, neurological, and postural examinations. Dr. Marie-Eve is an enthusiastic and dedicated professional, valuing individualized attention and actively listening to each person. She is committed to maintaining a professional, empathetic, and discreet environment for all her patients. Dr. Marie-Eve's goal is to assist people in attaining an optimal quality of life by guiding them in their health decisions and enhancing their nervous system. Along with her team, she offers top-notch chiropractic care and provides valuable nutritional recommendations. Espace Santé Chiropratique is known for its inviting ambiance and excellent healthcare services.

UNIQUE FACTS:
• Member of the Order of Chiropractors of Quebec (OCQ)
• Member of the Association of Chiropractors of Quebec (ACQ).
Specialty:
Chiropractic Adjustment, Fibromyalgia, Headaches and Migraines, Myofascial Therapies, Complex Regional Pain Syndrome, Sciatica, Sports Injuries, Degenerative Arthritis, Disc Degeneration, Herniated Disc, Joint Stiffness, Hip, Leg, Arm and Hand Pain, Auto Accidents, Back Pain, Bulging Disc & Carpal Tunnel Syndrome
Contact:
Working Hours:
Mon & Fri: 8am - 4pm
Tue-Thu: 8am - 8pm
Sat: 9am - 4pm
Sun: Closed
TBR® Inspection Report: