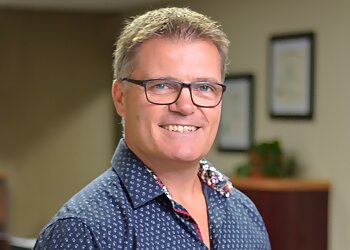 Dr. Eric Larochelle is a renowned chiropractor practicing in Granby. He obtained his degree from Palmer Chiropractic College in the United States. Dr. Eric employs the Gonstead technique, ensuring optimal adjustments for his patients. His specialization lies in joint and spinal correction, leveraging his expertise in radiology to address patients' joint disorders with precision. Dr. Eric is committed to delivering accurate and efficient care, catering to a wide range of patients including newborns, children, teenagers, adults, and the elderly. As the founder of Centre Chiropratique De Granby, Dr. Éric Larochelle and his team prioritize providing precise and effective chiropractic adjustments to restore patients' health. Their mission is to alleviate and support their patients while educating them on embracing a healthy lifestyle.

UNIQUE FACTS:
• More than 5000 Patients trust them
• Online Appointment Available.
Specialty:
Chiropractic Adjustment, Pediatric, Sports and Preventive Treatment, Elbow, Hip, Knee, Joint, Leg, Upper Back, Shoulder, Spine, Wrist and Ankle Pain, Fracture Care, Torticollis, Ear Infections, Headaches & Migraines
Contact:
Working Hours:
Mon, Wed & Thu: 9am - 5pm
Tue: 9am - 7:30pm
Fri-Sun: Closed
TBR® Inspection Report: