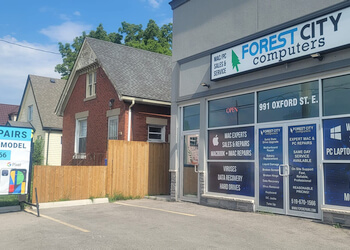 Forest City Computer Repairs, located in London, is a premier destination for computer and Mac repair services. Their team of certified computer technicians boasts over 15 years of experience, ensuring they are well-equipped to offer expert advice, upgrades, and repairs at a more budget-friendly rate. Forest City Computers is dedicated to delivering professional and efficient service without compromising on quality. Their primary goal is to help you maintain peak performance for all your tech devices, all while providing top-notch service and convenience. Most computer repairs are completed on the same day, thanks to their well-stocked inventory of parts. They have the expertise to service all makes and models of computers and offer their repair services to all areas within Forest City and its vicinity. Whether you need on-site or in-shop repairs, they've got you covered, with most services completed within hours and, in many cases, on the same day. For Apple MacBook users, Forest City Computer Repairs offers cost-effective out-of-warranty repair options. If your MacBook requires a logic board replacement, they can provide this service at a reasonable cost that won't exceed the value of your laptop. Additionally, they offer both regular and emergency services to cater to all your repair needs.

UNIQUE FACTS:
• They Offer 24/7 On-Site Technical Support
• Quick and Professional Service
• On-Site and Fast Service
• Competitive Pricing
• Free In-Shop Estimates.
Specialty:
Laptop Screen Replacements, Charging, Virus Removal, Mac Data Recovery, Security System Installation, Software and Hardware, Broken Hinge, and DC Power Jack, Overheating Problems, Motherboard, Backup and Recovery for Your Data, System Tune-Up to Make It Faster, Laptop/Desktop/Mac Overheating, Slow Computer, Hard Drive Failer, Install New Windows 7, 10, and 11, Solid State Drive, and Memory ( RAM ) Upgrades, Keyboard & Battery Replacements
Contact:
Working Hours:
Mon-Sat: 10am - 6pm
Sun: Closed
TBR® Inspection Report: