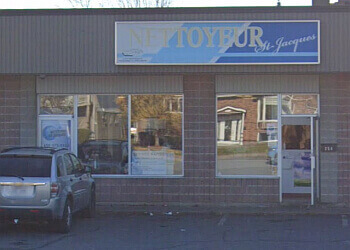 Nettoyeur St Jacques is a premier dry cleaning and alteration service located in Granby, QC. Their primary objective is to surpass your expectations by upholding the values of integrity, dependability, and professionalism. Their expertly trained team operates their equipment with precision, efficiency, and a strong commitment to safety. Before initiating the dry cleaning process, they diligently inspect your garments for any stains, making every effort to eliminate them. Their steadfast dedication extends to their exceptional proficiency in cleaning garments flawlessly. They assure their customers of outstanding dry cleaning services and seamlessly blend these with their commitment to fulfilling all your cleaning needs. Their seasoned, knowledgeable, well-trained, and courteous staff consistently delivers top-quality service. They are devoted to offering the utmost care to your clothing and household fabrics, ensuring the best possible after-care.

UNIQUE FACTS:
• Non-Toxic, Non-Allergenic
• Eco-friendly
• Soft to the touch.
Specialty:
Dry Cleaning, Saree, Shorts, Tie, Socks, Shawl, Sweaters, Suits, Coats, Pants, Skirts, Rugs, Suede, Comforters, Leather Jackets, Bedspreads, Carpet, T-Shirts, Formal Wear, Household Items, Tablecloths & Linens
Contact:
Working Hours:
Mon-Fri: 7:30am - 5:30pm
Sat: 8am - 12pm
Sun: Closed
TBR® Inspection Report: