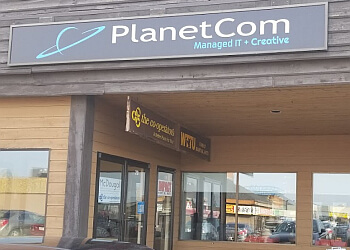 PlanetCom Inc. stands as a premier IT service provider, offering a diverse array of technology services tailored to support multiple industries. PlanetCom is dedicated to enhancing your productivity by taking a proactive approach to manage all aspects of your IT infrastructure, whether on-site or in the cloud. Their team of experienced technicians holds A+ Certification, ensuring that they are well-equipped to address your network issues, conduct scheduled maintenance, deliver hardware and software support, and optimize your daily workflow to ensure it runs smoothly, efficiently, and without disruptions. Furthermore, PlanetCom goes the extra mile for its valued customers by providing managed web and creative services. They offer a flexible three-tiered service plan—bronze, silver, and gold managed IT plans—that can be customized to precisely meet your unique service requirements. This approach underscores their commitment to delivering tailored solutions that cater to your specific needs.

UNIQUE FACTS:
• Online Appointments
• On-Site Services
• Worked with Multiple Company
• CompTIA A+ Certified.
Specialty:
Managed It Services, Antivirus and Monitoring Solutions, Microsoft Office 365, Consulting and Secure Data Storage and Protection, Web Hosting, Telecommunications, Firewall Deployment, Email Spam Filtering and Security, Hosted Cloud Infrastructure, Network and Server Setup, Spyware, Virus & Malware Removal
Contact:
Working Hours:
Mon-Fri: 8:30am - 5pm
Sat & Sun: Closed
TBR® Inspection Report: