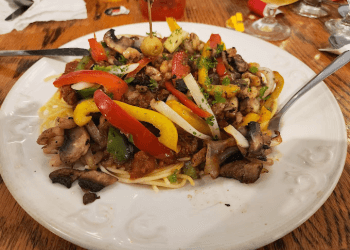 Restaurant La Casa Du Spaghetti is a traditional and delicious Italian restaurant in Granby. The restaurant is a fixture, offering an extensive array of timeless Italian delicacies, wood-fired pizzas, and creatively crafted cocktails. With a legacy spanning over a quarter-century, this establishment has consistently delivered a second to none-calibre cuisine. Maintaining a keen eye on evolving culinary trends, they remain dedicated to employing the freshest and finest ingredients, resulting in dishes that exude exceptional tastes and rich flavours. The menu thoughtfully accommodates various dietary preferences, boasting an ample selection of gluten-free options that invite all patrons to indulge. Abundant choices abound in pasta and pizza, presenting a diverse array that caters to diverse palates. A standout on the menu, the melted brie with cranberries is a delightful temptation that promises a unique and savoury experience. The invitation to partake in Restaurant La Casa Du Spaghetti's offerings extends to families, offering a dining experience that caters to all ages, fostering an atmosphere of familial camaraderie. For those seeking the epitome of family-friendly dining, a visit to Restaurant La Casa Du Spaghetti stands as a truly rewarding culinary journey, encapsulating decades of gastronomic excellence and cherished Italian traditions.

UNIQUE FACTS:
• Dine-in
• Outdoor seating
• Good for groups Menus
• Good for kids Menus
• Full bar.
Specialty:
MUST TRY DISHES: Les Boissons: Les Bières, Les Bières Importées, Les Bières Sans Gluten, Sleeman Et Unibrroue, Sangria, Les Cocktails, Vins Au Verre, Vins Rouges, Les Bloodys, Les Vins Blancs: Italie, Terroir Québécois, France, Cidre Et Rosés, Notre Vin Maison, Allemagne, Les Vins Rouges: Italie, Argentine, Chili, Portugal, Canada, Les Entrées/Salades: Les Entrées, Les Salades, Table d'Hôte, Pizza & Dessert
$Price:
Les Boissons Starts from $8
Les Vins Blancs Starts from $35
Les Vins Rouges Starts from $25
Les Entrées / Salades Starts from $8
Les Viandes Starts from $28
Les Pâtes Starts from $21
Les Spaghettis Starts from $18
Pizza Au Four À Bois Starts from $17

Contact:
Working Hours:
Tue & Thu: 11am - 2pm|
4:30pm - 8pm
Fri: 11am - 2pm |
4:30pm - 8:30pm Sat: 4pm - 8:30pm
Sun & Mon: Closed

TBR® Inspection Report: