Asim Ali Mortgage Team
Asim Ali Mortgages Team is one of the best Mortgage Teams in Surrey. Asim Ali Mortgage Team is one of the Three Best Rated® Mortgage Brokers in Surrey, BC.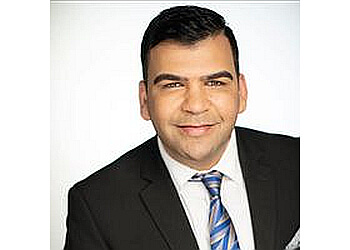 Asim Ali is the Managing Broker at Asim Ali Team. He has been in the Financial Sector for over five years. He is dedicated to providing superior financial advice on the best options for their mortgage. He gives strategies on mortgage financing for one of the largest investments most people will make in life. Their team goal is to help their clients and take their stress away by providing robust and seamless service. They offer a wide variety of mortgage products to all of their clients. They work with one of the industry's best lenders, getting their clients approved with more options and saving them thousands of dollars. They guarantee customized remedies to address specific requirements. They have built their reputation on their fantastic customer service and their unique products. Asim Ali Mortgages Team offers a Mortgage calculator and free appraisals.


Trustworthy
Reliable
Best Rates.
Borrowed Down Payment

Purchases

Refinances

Commercial Lending

Mortgages for Self Employed

B Lending

Private and Second Mortgages

Construction Financing

First Time Home Buyers

Investment Properties

Business Loans

Home Equity Line of Credits & Purchase Plus Improvements
We reached out to Asim for a Commercial deal that didn't work out however later on decided to buy a residential home for us. Asim and his team, specifically Tanuj really helped us out. With all our questions, from the beginning to end. Even after possession they checked-in to see how we were doing. Prior to Asim, we were always miss-guided on what we could afford. I am glad that we chose Asim Ali. I would highly recommend him for your real estate transaction I really want to thank Asim, and Nav for an excellent service and some amazing suggestions. I highly recommend this to prospective home buyers. The best part is, they don't charge you a single penny.
We had the pleasure of working with Asim Ali and it was a great experience. From start to finish he was there every step of the way providing us with information and advice. We were able to secure a mortgage in no time, build a great relationship and we look forward to working together in the near future. Highly recommend!
The best attributes I found in Asim's team are: All the team members are highly professionals, educated, well mannered, respectful, and provides their services efficiently, effectively and in a timely manner. As a notary, I put down my golden words about a person or a team only when I have a personal experiences working with that person or a team - Mohmed S.
CMP top 75 2019 & 2020 - DLC Hall of Fame
Mon-Fri: 9am - 7pm
Sat & Sun: Closed
Nearby Mortgage Brokers in Surrey: