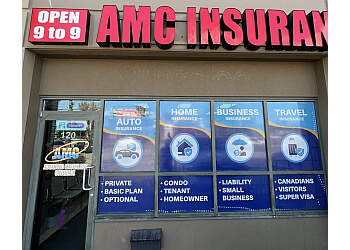 AMC Insurance stands as the comprehensive solution for all your insurance requirements in Surrey, BC. Recognizing the intrinsic value of insurance, AMC Insurance acknowledges that navigating the landscape of insurance plans can be a formidable task. Their central objective is to streamline this process, tailoring insurance to align with your distinct needs. Whether it's personal or professional insurance, AMC Insurance is dedicated to sourcing optimal coverage options at budget-friendly rates. Through an extensive network of insurance providers, they meticulously compare rates, ensuring that your needs are met. Collaborating with an array of companies, they meticulously evaluate rates on your behalf, presenting you with the finest choices for home, condo, travel, life insurance, and more. With a cadre of seasoned professionals, AMC Insurance guarantees access to the industry's premier offerings, securing you the most advantageous coverage at the most competitive prices.

UNIQUE FACTS:
• Conveniently Located in Surrey, British Columbia
• They Provide Comprehensive Insurance Services for English and Punjabi-Speaking Clients
• Their Team Is Committed to Continually Growing, Learning, and Changing as The Industry Evolves.
• They Have a Total of 9 Locations Across British Columbia.
Specialty:
Motorcycle, Automobile, Home, Cargo, Liability, Rv, Travel, Business, Fleet, Tenant, Rental Property, Commercial Landlord, Retail, Life, Classic Car, Condo, Realty, Umbrella Insurances, Contractor, Marine, Bike, Group & Private Auto
Contact:
Working Hours:
TBR® Inspection Report: