Merriam School of Music
Merriam School of Music is a dynamic and thriving music institution with a rich history of over three decades of service to the local community. Merriam School of Music is one of the Three Best Rated® Music Schools in Vaughan, ON.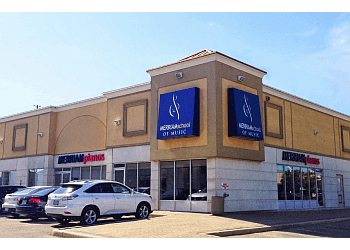 Catering to both children and adults, the school offers a diverse range of music lessons. Their team of educators includes accomplished Ph.D. level instructors, ensuring an optimal pairing between students and mentors. Moreover, students gain access to state-of-the-art facilities that rank among the finest globally. The school stands out for providing performance platforms encompassing various genres, such as rock, pop, jazz, classical, and blues, suitable for all age groups. Merriam School of Music also arranges enriching tours for its students. Merriam School of Music reaches 3,148 weekly lessons. The school opens its doors, expanding its GTA reach to the north and east with a school capacity of 500+ students and an additional 2000 square feet of showroom space.


Extra-Curricular Activity Options
State-of-the-art studio equipment
Temporal & Spatial Reasoning
Protools Audio Workstation, Focusrite Pre-Amps, AKG & Sennheiser Mics & Tape Machines.
CLASSES: Piano

Vocals

Classical

Pop

Jazz

Contemporary

Drums

Metal

Jungle

Rock

Music Theory

Opera

Band-Chops

Musical Theatre

Song-Writing

Electric and Classical Guitar

Harmony

Pre-School Programs

Piano Lessons

Drum Lessons

Singing Lessons

Guitar Lessons

or Private Music Lessons For Volin

Viola

Ukulele

Cello

Clarinet

Saxophone
I have been a student at Merriam School of Music for over a year. Taking piano lessons at the Vaughan campus from an awesome teacher by the name of Noemi Mazzilli. I could not have asked for a better instructor. As an older adult learning a new instrument, her encouragement and patience is very much appreciated. My progress over the past year has been exciting, and would recommend this studio, and Noemi as an instructor, to anyone who wants a great musical experience for their children or themselves.
"Wonderful! Professional!" My daughters have been taking piano lessons at Merriam School of Music for the past 7 years, and they love it. Paymon is super awesome, fun, and extremely helpful! Hilary & Chris are top notch teachers! Merriam School has become our second family. I would recommend one hundred percent!
Merriam School of music has been wonderful! The teachers are fantastic and my son has learned so much in the last year. The teachers are engaging with the young students and my son is actually excited to go to Piano school! The facility is run very well and Paymon's communication is great!
Annual tuitions usually range between $2000 – $5000
Private teachers will charge $50 – $100 per lesson
Mon & Fri: 10am - 6pm
Tue-Thu: 11am - 7pm
Sat: 9am - 6pm
Sun: 11am - 5pm
Nearby Music Schools in Vaughan: