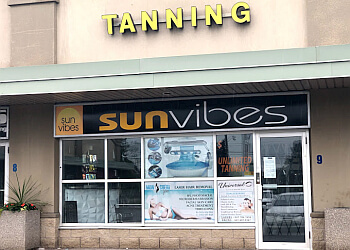 Sunvibes Tanning Studio showcases cutting-edge European technology designed to assist you in achieving a stunning bronzed complexion. The remarkable growth and widespread appeal of SUNvibes Tanning Studio can be attributed to their unwavering dedication to exceptional customer service, stringent cleanliness standards, and the meticulous upkeep of top-tier equipment. The highly trained staff, holding Smart Tan certification, are adept at guiding each customer towards responsible tanning practices and ensuring a personalized and optimal tanning journey. As the preferred tanning destination in Vaughan, SUNvibes Tanning Studio prides itself on extending a warm and inviting reception, tailoring experiences to each individual, and, naturally, helping clients achieve their most radiant tan. Moreover, with the purchase of a lotion bottle, patrons are entitled to one week of complimentary tanning in any bed, adding an extra layer of value to the experience.

UNIQUE FACTS:
• Professional Staff
• Modern and Stylish Ambiance
• Skincare and Aftercare
• Personalized Tanning Experience
• Innovative Tanning Options.
Specialty:
Sunbed Tanning: The P90, The Affinity 800, Sunrise 480, Sungate and Ergoline Excellence 800
Sunless Tanning: Versaspa & Double Dip
Contact:
Working Hours:
Mon-Fri: 10am - 8pm
Sat: 10am - 6pm
Sun: 10am - 4pm


TBR® Inspection Report: