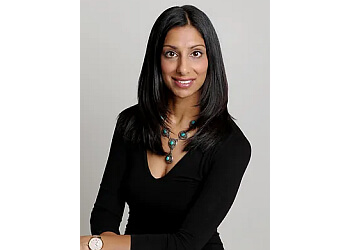 Dr. Nameera Chagpar earned her degree from the University of Waterloo School of Optometry in 2003 and furthered her expertise through a residency at the University of Houston, specializing in the cornea and contact lenses. Dr. Chagpar is committed to staying abreast of the latest advancements in lens technologies, ensuring that her patients have access to the finest options in both spectacle and contact lenses, providing them with the most precise and comfortable vision possible. As an active member of the Ontario College of Optometrists, the Ontario Association of Optometrists, and the Canadian Association of Optometrists, Dr. Nameera Chagpar practices at Eyes on Stonehaven, which offers comprehensive eye care services. The optical staff at the clinic takes meticulous care in assisting you with frame selections, considering factors such as the shape of your face, the nature of your prescription, and your personal style to ensure an ideal choice.

UNIQUE FACTS:
• Experienced Optometric Staff
• Optical Appointment
• Services Are Available by Appointment.
Services:
Corneal Topography, Comprehensive and Children's Care, Glasses Fitting, Astigmatism, Corrective Lenses, Contact, Peripheral and Blurry Vision, Vision Function Testing, Glasses, Nearsightedness, Farsightedness, Eye Strain, Myopia Control, LASIK Consultations, Dry, Scratchy Eyes & Sunglasses
Awards:
Top Choice Award for Top Optical in Newmarket/Aurora from 2018-2021
Contact:
Working Hours:
Mon-Wed & Fri: 9am -6pm
Thu: 11am - 7pm
Sat: 10am - 3pm
Sun: Closed
TBR® Inspection Report: