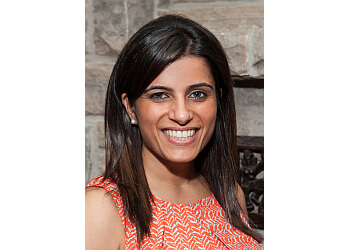 Dr. Garima Khanna completed her optometry studies at the Illinois College of Optometry located in Chicago. Her practical experience was honed through externships at the University of Chicago, particularly focusing on advanced ocular diseases. With specialization in primary care optometry, her expertise spans diabetic vision examinations, contact lens prescriptions, primary eye care, and the comprehensive co-management of surgical procedures both before and after. Holding the appropriate licensure to serve patients across the wider Ontario area, Dr. Garima Khanna is not only affiliated with the American Optometric Association but is also an esteemed member of the College of Optometrists of Ontario. This dedicated practitioner is aligned with a clinic that harnesses cutting-edge technology to provide superior care.

UNIQUE FACTS:
• The Pricing Is Also Reasonable, and The Staffs Are so Friendly
• She Is Proficient in Hindi, English, Urdu & Punjabi
• Services Are Offered Through Appointments.
Services:
CONDITIONS:
Comprehensive Exams for All Ages, Glaucoma, Red Eyes, Ocular Allergic Conditions, Dry Eye Syndromes & Injuries

PROCEDURES:
Bifocal and Multifocal Contact Lenses, LASIK and Vision Correction Surgery Co-Management, Orthokeratology: Reshaping the Eye with Contact Lenses, Cornea Transplant, Gas Permeable (GP) Contact Lenses & Visual Field Screening
Contact:
Working Hours:
Mon,Tue & Thu: 10am - 7pm
Wed & Fri: 10am - 5pm
Sat: 10am - 4pm
Sun: Closed
TBR® Inspection Report: