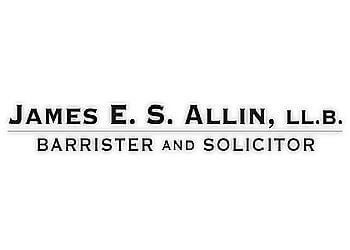 Law Office of James E.S. Allin has provided expertise in all matters of personal injury law for clients in Chatham and throughout Ontario. James E.S. Allin, along with his proficient support staff, is dedicated to exerting substantial effort to safeguard your interests in all matters related to personal injury law. With an unwavering commitment, the legal team at James E.S. Allin's law office is resolute in protecting your rights, backed by a team that is wholly devoted to the cause. Emphasizing transparent communication throughout the legal proceedings, they diligently strive to achieve the resolution you aspire to attain. Their affiliation with esteemed organizations is a testament to their dedication, firmly rooted in the pursuit of justice within the bounds of the law. Contact them to arrange your initial consultation and take the first step toward your legal journey.

UNIQUE FACTS:
• Over 40 Years
• Dedicated Staff
• Published Author: Ontario Trial Lawyer Litigator Magazine
• Past President of Kent Law Association
• Member and Past Director of Ontario Trial Lawyers Association.
Specialty:
Personal Injury, Accident Benefits, Insurance Claims, Wrongful Dismissal, Estate Litigation & Civil Lawsuits
Contact:
Working Hours:
Mon-Fri: 9am - 5pm
Sat & Sun: Closed
TBR® Inspection Report: