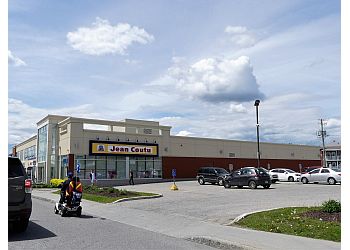 CALL
PJC JEAN COUTU
Since 1963
PJC Jean Coutu stands as a prominent member of the chain pharmacies in Sherbrooke, QC. Their unwavering commitment centers on furnishing high-quality services to address all your medical requirements. With a team of seasoned and devoted professionals, their focus lies in delivering exceptional customer service alongside expert guidance. The pharmacy further extends its offerings to encompass mobility aids and orthopedic equipment, providing a comprehensive solution hub right within your neighborhood. At the heart of their ethos is the cultivation of enduring relationships. PJC Jean Coutu aspires to establish a sustained connection with you, servicing your needs for many more years to come. Their objective merges the advantages of a sprawling drugstore chain with the personal touch of a local pharmacist, ensuring you receive the best of both worlds. Recognizing the ever-evolving convenience needs, the pharmacy offers delivery service to ensure that your essentials reach you without hassle. Moreover, they go a step beyond by providing additional consultation services through professionals, enhancing the benefit that customers derive from their pharmacy visits. In essence, PJC Jean Coutu, nestled within Sherbrooke, QC, emerges as an integral player in the realm of chain pharmacies. With a focus on quality, personalized care, and comprehensive offerings, they stand ready to serve your medical needs while forging enduring connections in the process.

unique Facts:
• Digital Printing Kiosk
• Wifi
• Tests and Samples
• Wheelchair Rental
• Insulin Pump Products.
Specialty:
Drug Injection, Ears Cleansing, Expired Medication Disposal, Vaccination, Pregnancy Test, Medication Flavoring, Pill Dispenser, Weight Management, Cholesterol and Diabetes Monitoring, Compounding, Eco-Friendly Recyclable Vials, Antigen Testing, Ear Washing, Blood Pressure Monitoring & Prescription Refill
Contact:
Working Hours:
Mon-Fri: 8:30am - 9pm
Sat & Sun: 9am - 6pm
TBR® Inspection Report: