Gurdeep Gill Sakkarwal, PT - NORDEL PHYSIOTHERAPY AND SPORTS CLINIC
Gurdeep Gill Sakkarwal attained her Bachelor of Physiotherapy degree in 2005 from MGM Medical College, DAVV University, Indore, India. Gurdeep Gill Sakkarwal, PT - NORDEL PHYSIOTHERAPY AND SPORTS CLINIC is one of the Three Best Rated® Physical Therapists in Delta, BC.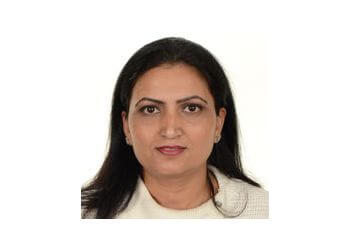 She further accomplished her Master of Sports Physiotherapy degree in 2007 from GNDU University, Amritsar, India. Her postgraduate research paper centered on the Comparison of Efficacy of Thera-Band, Plyometric, and Combination Training on the strength of Quadriceps assessed on Isoinertial Dynamometer. She holds a license for IMS/Dry Needling treatment. Her therapeutic approach emphasizes both assessment and treatment to optimize functional recovery. Gurdeep Gill Sakkarwal serves as a physiotherapist at Nordel Physiotherapy and Sports Clinic. Their offerings encompass Physiotherapy, Active Rehab, Registered Massage Therapy, Sports injury treatment, Intramuscular stimulation, and Cold Laser therapy, with the aim of facilitating patients' recuperation from injuries and restoring strength and mobility. They tailor individual programs to meet the unique needs of each patient.


Nordel Physiotherapy & Sports Clinic provide Personalized Care, Individual Treatment.
Nordel Physiotherapy & Sports Clinic still continuing to offer Tele-Health.
CONDITIONS:
Arthritis Joint

Low

Upper

Back Pain

Carpal Tunnel Syndrome

Work Conditioning

Car Accident Injuries

Bursitis

Sprains and Strains

Soft Tissue Injuries

Muscle and Joint Pain

Headaches & Orthopedic Trauma

PROCEDURES:
Acupuncture

Orthotics

Sports Injury Rehabilitation

Hardening Vestibular

Concussion Rehab

Electrotherapy

Intra Muscular Stimulation (IMS)

Cold Laser & Shockwave Therapy
There is never enough to say about Nordel Physio, I have known both Sunil and Gurdeep for longer than the business, I have been a patient since business inception. The services offered by both is priceless. Time and again I went with a bad back, knee... came out with perfect results. The treatment offered is so professional, comes with advice and care. The environment is so clean and welcoming which brings a smile to my face. I recommend Nordel Physio to everyone who needs a good, friendly treatment. Every visit adds value to your health.
After fracturing my ankle during a sports injury, I started coming here to do weekly physiotherapy sessions with Gurdeep. She recommended targeted exercises week by week to strengthen and stabilize my ankle - I'm glad to say they've helped me to be well on my way towards recovery. I've appreciated her knowledge of injuries as well as the best way and timeline to recover from them. Hopefully I won't need to be back, but if I have another injury in the future (fingers crossed), I'll be sure to come back to this clinic. Thank you Gurdeep and team!
My family and I have been going to Nordel Physiotherapy for many years when necessary. The staff and services has always been consistently excellent. They are friendly, professional and always willing to assist in helping you get better and back to good health. Thank you Gurdeep and to your great team!
Initial Assessment + Treatment $ 90
Subsequent visits $ 80
Chamber of Commerce Group Insurance Plan, Cowan, Desjardins Insurance, Equitable Life, First Canadian, Great-West Life, Green Shield Canada, Ia Financial Group, Johnston Group, Manulife, Maximum Benefit, Pacific Blue Cross, Sun Life Financial & Standard Life
Mon-Fri: 9am - 8pm
Sat: 9am - 2pm
Sun: Closed
Nearby Physical Therapists in Delta: