Shahnaz Gupta, PT - SUNSHINE PHYSIOTHERAPY & SPORTS CLINIC
Shahnaz Gupta completed a Bachelor of Physiotherapy Degree from Guru Nanak Dev University in 2008. Shahnaz Gupta, PT - SUNSHINE PHYSIOTHERAPY & SPORTS CLINIC is one of the Three Best Rated® Physical Therapists in Delta, BC.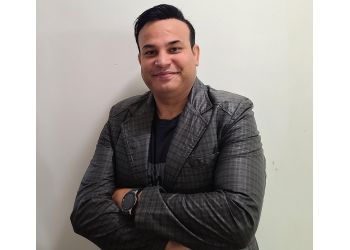 With over 13 years of experience, he has provided patient care at private clinics, multispeciality hospitals, and INDIAN ARMY hospitals as a consultant physiotherapist. He holds memberships in the Canadian Physiotherapy Association (CPA) and the Physiotherapy Association of British Columbia (PABC). He is certified in Acupuncture/Dry needling/IMS and Concussion Management (Mild Brain Injury). He possesses proficiency in various Manual therapy techniques such as Maitland, Cyriax, Kaltenborn, and Butler. With excellent communication and therapeutic skills, he is skilled in treating injuries and patients with ICBC/MVA Claims, Worksafe BC Claims, and Extended Health Benefits. Shahnaz Gupta serves as the Managing Director (CEO) at Sunshine Physiotherapy & Sports Clinic, where they are dedicated to providing the highest ethical treatments and employing the most advanced therapies and techniques.


He speaks English, Hindi and Punjabi.
At Sunshine Physiotherapy & Sports Clinic, there is no charge for workplace injury cases and Got injured in car accident.
Sunshine Physiotherapy & Sports Clinic aims to provide appointment responses either on the same day or within a 24-hour timeframe.
Free 15 min free consultation with registered Physiotherapist.
CONDITIONS:
Neck

Hip

Shoulder and Back Pain

Muscle Spasms

Tension

Knee

Joint Dysfunction

Plantar Fasciitis

Heel Spurs & Achilles Tendonitis

Tennis or Golfer's Elbow

Trochanteric Bursitis

Headache

Drowsiness/fatigue

Pelvic

Low Back Pain & Sacroiliac (Si) Joint Pain

PROCEDURES:
Manual and Sports Therapy

Dry needling

Post-Surgical Therapy

Motor Vehicle Accident Recovery

Laser

Active rehab

Acupuncture & Ultrasound
The customer service is amazing and fast they take there time while doing the physio and making the appointment is very nice and fast they are really friendly to.
Best services provided by the physio here. Easy to get appointments, no wait time. I have been experiencing pain in the neck and upper back and they fixed it completely. Highly recommended.
Physiotherapy gave me wonderful treatment n nice environment. Lots of parking.
Extended Health(Direct Billing):
Initial Physiotherapy Assessment & treatment session $85
Subsequent Physiotherapy session $80
Private extended sessions (>60 min) $140
Mon-Fri: 9am - 7pm
Sat: 10am - 3pm
Sun: Closed
Nearby Physical Therapists in Delta: