Dr. Amandeep K. Randhawa - METRO VANCOUVER PODIATRY
Dr. Amandeep K. Randhawa - METRO VANCOUVER PODIATRY is one of the Three Best Rated® Podiatrists in Vancouver, BC.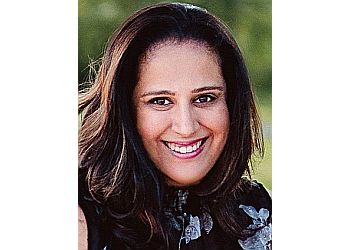 Dr. Amandeep K. Randhawa stands as a prominent figure in the field of podiatry in Vancouver. She achieved her Bachelor of Science in Biology degree from The University of British Columbia. Driven by a passion for aiding people and influenced by an early recognition of her affinity for hands-on work, she embarked on her journey. This journey led her to earn a Doctor of Podiatric Medicine Degree from Temple University School of Podiatric Medicine. Her pursuit of excellence extended to completing a comprehensive three-year residency program focused on foot and ankle surgery, based in Los Angeles, California, with a significant 17-month period spent at Kaiser Permanente. Notably, Dr. Randhawa holds the position of Clinical Director for the Fit Feet Special Olympics program, contributing significantly to its operations. Additionally, she plays an active role in organizing the ShoeRenu program in Vancouver. Throughout her career, Amandeep K. Randhawa has been dedicated to healing feet across Metro Vancouver, recognizing the profound impact foot pain can have on all aspects of an individual's life.


Easy Appointments Are Available
They Also Offer Walk-In Service.
CONDITIONS:
Foot and Ankle Pain

Toenail Care

Calluses/Corns (Ingrown

Fungal Nails

Deformed/Damaged Nails)

Diabetic Foot Care

Ganglion Cysts

Tailors Bunions)

Warts

Dermatitis

Flatfoot

Severe Disease)

Pediatric Foot Problems

High Arched Feet

Xerosis

(Toe Walking

Deformities

Hammertoes

(Bunions

Neuroma's

Skin Problems & Hyperhidrosis)
This was my second time visiting Dr. Randhawa. I was able to get an appointment right away and received a thorough assessment and treatment plan. I picked up the necessary prescription later that day, and then I received a follow up call. Dr. Randhawa wanted to make sure things were still improving. Excellent service all around.
Dr. Randhawa is such a caring and empathetic person. I've been seeing her for several years and have recommended her to friends looking for a good podiatrist.
I would love to share my positive experience with Dr. Randhawa. She is very thorough and straight to the point. I really enjoy her practical and cost-effective solutions! Most importantly, she did an amazing job on my painful ingrown toenails, it took away the pain instantly and looks really good. Thank you!
Sat: 9am - 3pm
Mon-Fri & Sun: Closed
Nearby Podiatrists in Vancouver: