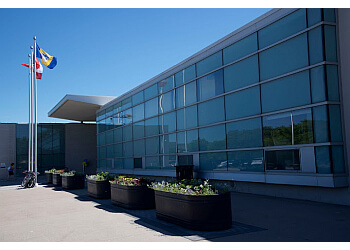 Whitchurch-Stouffville Leisure Centre holds a prominent position as one of Stouffville's primary recreational facilities. Inside this facility, there is an indoor pool, various activity programs, public swimming options, and multipurpose rooms. The Whitchurch-Stouffville Leisure Centre is dedicated to providing enjoyable and educational programs and health-conscious services. This facility also houses a fitness center, community spaces, and a gymnasium. The WSLC features the Latcham Gallery, a basketball court, a gym, rooms designated for group fitness and spinning classes, and event spaces. For those looking for fitness options, the Whitchurch-Stouffville Leisure Centre has a compact gym equipped with various exercise equipment and weights. The Whitchurch-Stouffville Leisure Centre offers facility rental options if you require a venue for events and meetings. Additionally, you can easily register for their programs or participate in them through convenient drop-in arrangements. Feel free to contact them for further information or to make arrangements.

UNIQUE FACTS:
• Fully Accessible
• Change Room & Lockers
• Wheelchair Accessible
• Washrooms
• Parking Available.
Specialty:
Skating, Family Yoga, Children's Play Area, Preschool, Lane and Therapy Pool, Waterslide, Zumba, Adult Programs, Pilates, Youth, Personal Training, Accessible Change Room, Day Camps, Gymnasium, Auditorium, Aerobics Room, Triathlon, Cyclefit ( Spinning), 55+ Club & Library
$Price:
Facility Rental:
Multipurpose Room:
Resident $65 per Hour
Non-Resident $80 per Hour
Commercial $650 per Day
Pool:
Resident $150 per Hour
Non-Resident $190 per Hour
Gymnasium:
Resident $62 per Hour
Non-Resident $79 per Hour

Contact:
Working Hours:
Mon-Thu: 6am - 10pm
Fri: 6am - 9pm
Sat & Sun: 7:30am - 8pm

TBR® Inspection Report: