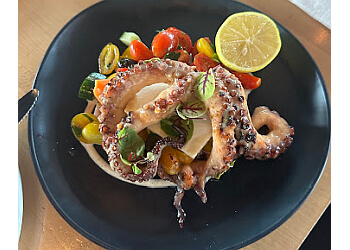 Lucille's Laval is one of the most famous seafood restaurants in Laval. Beyond the exceptional cuisine, what truly sets Lucille's apart is its staff, renowned for their ability to infuse every visit with a sense of familiarity and comfort, making patrons feel right at home. With an unwavering commitment to excellence, Lucille's Laval endeavours to offer the finest assortment of East and west coast oysters, a testament to their dedication to providing the best. The dynamic oyster selection evolves daily in response to seasonal availability, ensuring every guest's fresh and varied experience. Complementing its oyster offerings, the restaurant continually reinvigorates its menu with a range of seafood dishes that have become favourites among its dedicated clientele. This selection includes timeless classics like lobster rolls, fish & chips, and innovative creations that captivate the palate. To kickstart a memorable meal at Lucille's Laval, diners can indulge in appetizers such as crispy fish tacos or fried calamari. For the main course, the options are equally enticing, from the delectable sesame-crusted miso tuna to seafood linguini, cedar plank salmon, and parmesan-crusted lamb chops. Lucille's Laval also caters to the convenience of its patrons by offering delivery and take-out options, ensuring that the exceptional flavours they provide can be enjoyed in the comfort of one's own space.

UNIQUE FACTS:
• Dine-In
• Takes Reservations
• Private Lot Parking
• Curbside Pickup
• Delivery.
Specialty:
MENU: Cold Seafood Platter, Lobster Mac and Cheese, Crispy Fish Tacos, Roasted Cauliflower, Fried Calamari, Salmon Tartare, Filet Mignon Beef Tartare, Two Lobster Rolls, Baby-Back Ribs, Sesame Crusted Miso Tuna, Grilled Octopus on Greek Salad, Caesar Salad, Seafood Linguini, Cedar Plank Salmon, Parmesan Crusted Lamb Chops & Garlic Mash Potatoes
$Price:
Starters starts from $17
Mains starts from $21
Dessert starts from $10

Contact:
Working Hours:
Mon-Thu: 11:30am - 10pm
Fri: 11:30am - 10:30pm
Sat: 5pm - 10:30pm
Sun: 5pm - 10pm
TBR® Inspection Report: