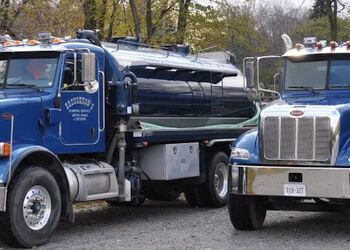 Broughton's Pumping Service is your trusted provider of septic tank cleaning services for both residential and commercial clients. Their reputation is built on a foundation of competitive pricing, reliability, and a team of knowledgeable staff who excel in their field. With full licensing and insurance coverage, Broughton's Pumping Service boasts an impressive 45 years of experience, positioning them as seasoned experts in septic tank maintenance. They are dedicated to informing and assisting home and business owners in maintaining their septic systems.In addition to their cleaning services, the company offers efficient and professional installation services for new septic tanks and systems. Their team of experts is readily available to help you schedule a septic or holding tank pumping appointment. It is committed to addressing any inquiries you may have about their comprehensive range of services. Broughton's Pumping Service is a reliable and knowledgeable partner for all your septic needs.

UNIQUE FACTS:
• Online Estimates
• Punctual and Knowledgable Staffs
• Efficient Cleaning.
Specialty:
Septic, Holding Tank Cleaning, Construction Sites, Sewage Pumping Stations, Municipal Service, Maintenance, Residential and Commercial Septic Service, Inspection & Pumping
Contact:
Working Hours:
Mon-Fri: 8:30am - 4pm
Sat & Sun: Closed
TBR® Inspection Report: