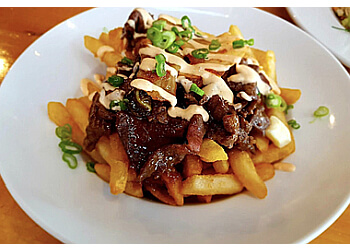 The King's Landing Bar & Grill, located in Stouffville, stands out as a top-notch and contemporary sports bar. Their dedication lies in delivering a professional and amiable dining experience to their patrons, all while offering a diverse menu crafted from high-quality, fresh ingredients. The pub's menu boasts a delectable selection of items, with a focus on burgers and gourmet pizzas. Its inviting atmosphere is ideal for engaging conversations, happy hours, and enjoyable meals with partners, friends, or family. Each and every dish on their menu is thoughtfully prepared with natural ingredients to ensure a memorable dining experience. For added convenience, The King's Landing Bar & Grill accepts debit cards, making payments hassle-free. Furthermore, it's a suitable choice for group gatherings, ensuring that everyone can relish a delightful meal together.

UNIQUE FACTS:
• Dine-In
• Takeout
• Home Delivery
• Curbside pickup
• Many Vegetarian Options
• Outdoor Seating
• Catering Services
• Full Bar Facilities
• Television Facility
• Free Parking Facilities.
Specialty:
MUST TRY DISHES: SANDWICHES: French Onion Beef Dip, Grilled Chicken Club, Pulled Pork, Bbq Chicken, Prosciutto Panini and Country Hot Chicken Sandwich, WRAPS: Buffalo Chicken, Caesar Chicken, Chicken and Goat Cheese Wrap and No Meat Here Wrap, SALADS: Spinach and Apple, Caesar, Ancient Grain and Kale, Seared Salmon, Chicken Cobb & Greek Salad
$Price:
BURGERS:
Kings $21
BBQ Bacon Cheddar $19
Seoul $19
Spicy $19
Portobello mushroom $18
Ultimate Cheese $19
Blue Cheese $19
SANDWICHES:
French Onion Beef Dip Sandwich $22
Grilled Chicken Club Sandwich $18

Pulled Pork Sandwich $18.50
BBQ Chicken Sandwich $18.50
Prosciutto Panini $18.50
Country hot Chicken Sandwich $18.50

Contact:
Working Hours:
Mon-Wed: 11:30am - 11:30pm
Thu-Sat: 11:30am - 1pm
Sun: 11:30am - 10pm
TBR® Inspection Report: