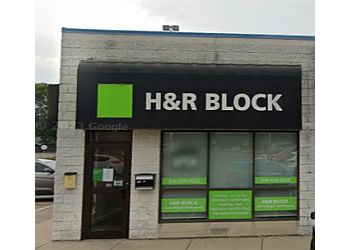 H&R Block Simcoe is Canada's foremost provider of personal tax preparation services. The tax professionals affiliated with H&R Block are dedicated to offering straightforward, dependable, and cost-effective income tax planning and filing services across the country. In addition to their services for individuals, H&R Block Canada excels in assisting small businesses to maximize their deductions and enhance their financial bottom line. They are committed to ensuring that, on average, their pricing delivers superior value for both individuals and businesses. To ensure efficiency and accuracy, their team employs cutting-edge electronic processing and filing technology for the preparation of all types of returns, including those for personal and small businesses. H&R Block Canada goes the extra mile by providing a complimentary estimate and access to technical support for their clients.

UNIQUE FACTS:
• 50+ Years of Combined Experience
• Trained Tax Experts
• 7,000+ Tax Experts.
Specialty:
Pay With Refund, Corporate and Personal Taxes, Tax Returns for Prior Years, Rate Provincial, Financial Consultant, Non-Resident or Expatriate Returns, Audit and Tax Notice Support, ITIN Services, College Funding, Bookkeeping, Second Look, Federal Rates, Tax Return Preparation, Checklist Online Estate Planning, Audit Representation and Protection, Taxes Calculator & Payroll
Contact:
Working Hours:
Wed & Fri: 10am - 4pm
Thu: 12pm - 6pm
Sat-Tue: Closed
TBR® Inspection Report: