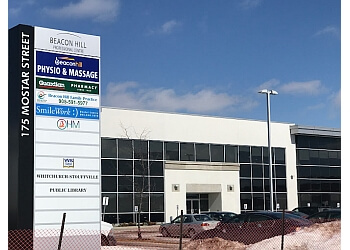 Beacon Hill Family Practice stands out as one of Stouffville's premier urgent care facilities, combining family medicine and a convenient walk-in clinic. Their team comprises dedicated physicians and healthcare professionals who are deeply committed to delivering exceptional patient care and promoting the overall well-being of the local community. Their services encompass a wide spectrum, including both OHIP-covered and non-OHIP-covered options. They provide comprehensive healthcare services, such as the management of chronic illnesses, preventive healthcare, women's health services, maternal and pediatric care, flu vaccinations, immunizations, geriatric care, and in-home visits for individuals aged 65 and above. Furthermore, they extend their services to both registered and non-registered patients through their walk-in clinic. Situated within the Beacon Hill Professional Centre, their clinic shares space with various other healthcare disciplines. With a dedicated team of both medical and non-medical personnel, their primary mission is to ensure your well-being and care.

UNIQUE FACTS:
• Laboratory Services
• All Publicly Funded Vaccines Available
• Offer Online Booking and Virtual Visits.
Specialty:
Fever, Illnesses, Cold, Allergy Symptoms, Fractures, Eye Redness, Eye Infections, Accidental Injuries, Tooth Pain, Ear Infections, Sore Minor Corneal Scratches, Throats and Strep Throat, Flu & Eye Pain
Contact:
Working Hours:
Mon-Thu: 9am - 5pm
Fri: 9am - 3pm
Sat & Sun: Closed
TBR® Inspection Report: