Animal Emergency Clinic of the Fraser Valley
Animal Emergency Clinic of the Fraser Valley has been dedicated to providing emergency and critical care to your pets for 25 years. Animal Emergency Clinic of the Fraser Valley is one of the Three Best Rated® Veterinary Clinics in Langley, BC.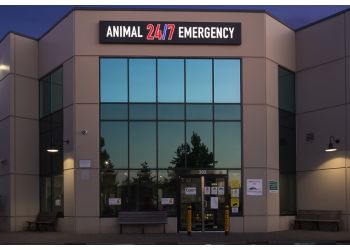 Open 24 hours per day, 365 days per year, they have a veterinarian on duty at all times, along with the support staff you need to care for your pet. Their hospital is a fully equipped emergency veterinary hospital staffed by experienced and caring individuals for your pets. They have been certified as a Level II Facility by the Veterinary Emergency & Critical Care Society. Their hospital offers advanced diagnostic technologies, state-of-the-art surgical rooms and cutting-edge intensive care units. They have a large canine and feline Blood Donor Program. They collect donations for their patients and provide numerous other Veterinary Hospitals with life-saving blood products. They provide a complimenting service to your family veterinarian by providing emergency and critical care for your pets when your family veterinarian is unavailable.


24-Hour Emergency and Critical Care Hospital
Board Certified Specialists
In-House Laboratory
Offer Competitive Wages Along with Flexible Scheduling.
Anesthesia

Emergency Veterinary Care

Blood Donor Program

General Pet First Aid

Video Endoscopy

Ultrasound

Digital Radiography

CT Scanning

Emergency Surgery

Traumatic Injuries

Respiratory Emergencies

Vomiting

Oxygen Therapy

Diarrhea

Unconsciousness

Choking

Unable to Urinate or Defecate

Allergic

Pain Management

Blood and Plasma Transfusions

Postoperative Care and Monitoring

Avian

Exotic & Pocket Pets
We were so impressed when bringing in our rabbit today! It's very difficult to find quick support for small animals in the lower mainland and our regular vet was not available when we were in need. All of the staff were so nice, approachable, empathetic, helpful, and thorough. We are so thankful for the care that we received today!
Saw Dr. Noble last night with my dog Gypsy for suspected bladder infection. Long, but justified wait, as there were several more urgent cases that arrived during our visit. Communication was excellent by everyone tho and really appreciated getting a jump start on her treatment as she was very uncomfortable. Thanks AECFV!
They have help 2 of my fur babies through terminal illness and the compassion they all have for you is amazing. They're are my "GP's" for all my babies and future babies.
Nearby Veterinary Clinics in Langley: