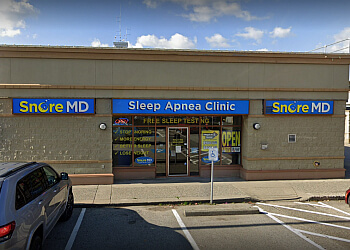 Snore MD is a prominent sleep clinic in Langley, Canada, recognized for its leadership. This clinic offers personalized, comprehensive, lasting sleep and respiratory treatment strategies. The collective mission of their team centers on assisting individuals in resolving their sleep-related concerns. A key aspect that sets Snore MD apart is their extensive network within the medical community, collaborating closely with family doctors and hospitals. This connectedness underscores their commitment to comprehensive patient care. At the heart of Snore MD's operations is a team of accomplished sleep professionals, encompassing respiratory therapists and registered nurses. These experts are adept at identifying and addressing a range of sleep apnea and snoring issues, delivering specialized care to those in need. Navigating your journey within Snore MD's care is their dedicated clinical coordinator, who will attentively guide you through the process, addressing any inquiries. To enhance accessibility and convenience, the clinic offers same-day appointments, ensuring prompt attention to your needs. Their sleep experts are at your disposal six days a week, with the added flexibility of accommodating after-hour appointments, including evenings. For those looking to enhance their sleep quality, contacting Snore MD to schedule an appointment is highly recommended. The clinic offers an avenue toward improved sleep and overall well-being through its comprehensive and dedicated services.

UNIQUE FACTS:
• Free Sleep Assessment
• Virtual appointments available
• Wheelchair Accessible
• Provide Same-Day Appointments
• CPAP Supplies
• Parking Available.
Specialty:
Obstructive Sleep Apnea, Insomnia, Loud Persistent Snoring, High Blood Pressure, Early Morning Headaches, Daytime Exhaustion, Excessive Day Time Sleepiness, Fatigue, Choking/ Gasping During Sleep, Restless Sleep, Witnessed Pauses in Breathing, Depression, Irritability and Sleepiness During Routine Activities, Nocturnal Oximetry, Home Oxygen & CPAP Therapy

Serving Locations:
Vancouver/ Broadway, North Vancouver, Port Coquitlam, Maple Ridge, Mission, Ladner, Surrey/ Panorama, Walnut Grove, Kelowna, Lethbridge, West Kelowna, Kamloops, Prince George, Abbotsford & Gibsons
Contact:
Working Hours:
Mon-Fri: 9am - 4:30pm
Sat: 9am - 3:30pm
Sun & Holidays: Closed
TBR® Inspection Report: