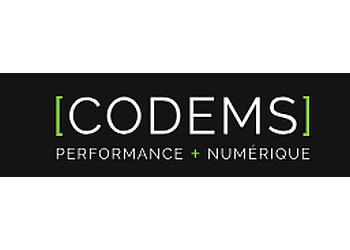 Codems is a web design agency with a primary mission to ease the transition of businesses into the digital realm. Originally established in Terrebonne in 2008 by two ambitious web entrepreneurs, Codems is now based in Blainville. The agency's name, "Codems," derives from the fusion of the words design, dynamism, and media, reflecting their commitment to innovation and vibrant solutions. Over the years, Codems has expanded its team and solidified its reputation by consistently creating innovative, efficient, and functional web projects. Julien-Karl serves as the agency's president, and in today's business landscape, the necessity of a company having a website is indisputable. Understanding the specific role that a website will play in a company's communication strategy is crucial to ensure its success. Codems boasts a team of highly talented and skilled design professionals who excel in crafting impactful, targeted, and precise communication through innovative web solutions across all their services. They recognize that natural referencing on the web, commonly known as SEO (search engine optimization), can be a perplexing concept for entrepreneurs not well-versed in the web industry. Codems takes a client-focused approach, starting with a deep understanding of their needs and clearly defined objectives as the foundation of any web development project. Their primary goal is to facilitate impactful, targeted, and precise communication strategies, ultimately helping businesses connect with new customers who prefer media interactions. Codems is dedicated to delivering the best solutions to elevate the focal point of your communication efforts.

UNIQUE FACTS:
• Satisfied Customers
• Free Consultation
• Offer a Wide Range of Web Services
• tailor-Made Services.
Specialty:
Web Design, Web Development, Search Engine Optimization Web, E-Commerce, Marketing, Social Media, Domain Name & Web Application
Contact:
Working Hours:
Mon-Fri: 8am - 5pm
Sat & Sun: Closed
TBR® Inspection Report: