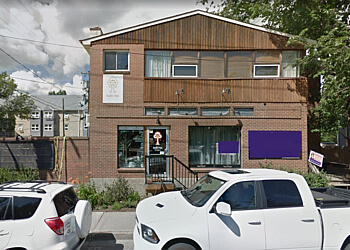 Bodhi Tree Yoga stands as a firmly established yoga studio nestled at the heart of Regina. This studio takes pride in its identity as a communal yoga center, offering classes tailored to all individuals. The instructors are dedicated to assisting students in establishing a profound connection with their bodies and adapting practices according to their unique circumstances. With almost twenty years of experience, Sarah serves as a seasoned yoga therapist. Joining her is Colin Hall, who holds the position of co-director at Bodhi Tree Yoga. The Hatha yoga classes at the studio revolve around foundational postures, mindful breathwork, methods for relaxation, and the study of yoga philosophy. Furthermore, Bodhi Tree Yoga places emphasis on cultivating core strength and achieving alignment. The studio also presents comprehensive teacher training programs. The objective of these programs extends beyond shaping proficient yoga teachers. Their aim is to facilitate substantial transformation in individuals' lives, allowing them to exemplify the therapeutic and metamorphic potential of yoga.

UNIQUE FACTS:
• Authentic Yoga Classes
• Knowledgeable Instructors
• Effective Yoga Therapy.
Specialty:
Yoga Therapy for Women, Bodhi 1-2, Relax and Renew 1, Shake Your Hot, Warm Bodhi Bliss 1, Breath and Meditation 1, Prenatal, Warm, Alignment Therapy 1, Core & Yin 1
$Price:
Unlimited classes for the summer - $103.95
One Year Unlimited Online Pass - $948
One Month Unlimited Pass - $155
Single Drop ins:
6 credits (Hour and a half and hot/warm classes) - $18.90
5 credits (Hour Classes) - $15.75
4 credits (45 min classes) - $12.60

Contact:
Working Hours:
Mon-Fri: 11:30am - 7:30pm
Sat: 11:30am - 4pm
Sun: 3:45pm - 6:45pm
TBR® Inspection Report: