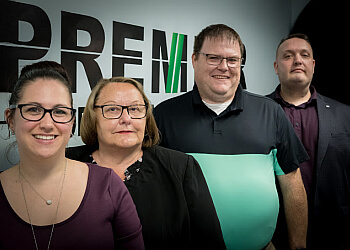 Premier Professional Accountants is a local Brantford accounting practice that has adapted to the changing world of technology. It has allowed them to take their brand nationally, serving clients from coast to coast with secure communication channels and timely and efficient record-keeping, reporting, and coaching for financial concerns. The team at Premier takes your unique financial situation and future goals into consideration while extending a personal touch on how their team engages your management team or board of directors. Under the leadership of Jason B. Smale, who has spent the past 19 years managing and consulting business operations from small start-ups to multi-location enterprises, the team at Premier provides insightful feedback when participating in the evolving discussion on the financial future of your operations. If you're looking for a new and better way of doing business, don't hesitate to contact their team today.

UNIQUE FACTS:
• Strategic Planning
• Industry-Leading Technology
• Online Appointments
• On-Site Services.
Specialty:
Accounting, Bookkeeping, Tax Preparation, Tax Planning, Filing Past Due Tax Returns, Corporate Tax Returns, Audit Defence, Payroll, Source Deductions, WSIB Filing, EHT Filing, Bi-Weekly or Monthly Payroll, Estate and Succession Planning, Notice to Reader, Financial Statement, RRSP & TFSA Investment Assessments
Contact:
Working Hours:
Mon-Thu: 9am - 6pm
Fri: 9am - 5pm
Sat & Sun: Closed
TBR® Inspection Report: