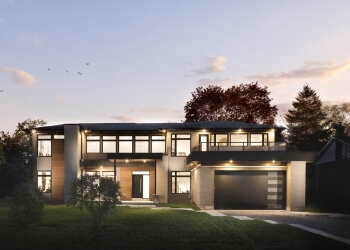 BM Architectural Design stands as a highly esteemed architectural firm. Ben, the visionary behind the firm, possesses a distinctive passion for architecture and a remarkable talent for conceptualization and artistic creation. Armed with a Bachelor's degree in Architecture and Project Management, Ben brings a wealth of expertise to the field. BM Architectural Design doesn't limit its scope to architecture alone. The firm also offers comprehensive interior design and sustainable design services, showcasing their commitment to holistic and environmentally conscious design solutions. Renowned for their reliability, BM Architectural Design has earned the prestigious approval of Bauemler, underscoring their professional credibility. Their influence extends across various regions in Ontario, as they diligently serve communities in Brantford, Cambridge, Kitchener, Waterloo, Mississauga, GTA, Hamilton, Burlington, and Oakville. With a focus on innovation and diversification, BM Architectural Design has expanded its service portfolio to include interior design and sustainable design services. This multifaceted approach reflects their dedication to providing comprehensive design solutions that enrich both aesthetics and functionality.

UNIQUE FACTS:
• Holistic Design Approach
• Award Owned Company
• Serve 10 Main Locations.
Specialty:
Architectural Design, Interior Design, Custom Homes, Cottages and Vacation Homes, Sustainable Design, Additions and Renovations, Contractor Recommendations and Bid Process Support Permit Acquisition & Building Code Review
Contact:
Working Hours:
Mon-Fri: 9am - 6pm
Sat & Sun: Closed
TBR® Inspection Report: