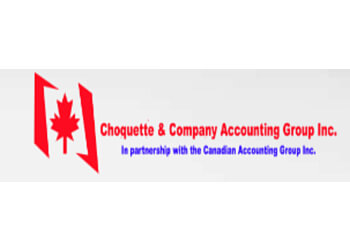 Choquette & Co. Accounting Group Inc. operates as a comprehensive accounting firm located in Maple Ridge. This well-established firm is dedicated to offering cost-effective, professional, and highly efficient tax and accounting services to clients spanning across Canada. Their primary mission revolves around fostering the growth and prosperity of each and every client they serve. At Canadian Accounting Group Incorporated, Andre Choquette, the Principal Accountant, leads the way. Andre's unwavering objective is to collaborate closely with clients, ensuring the provision of transparent services. Alongside his dedicated team, they offer a full spectrum of business start-up consulting, business plan preparation, and formation services. Their hallmark is treating every client with meticulous attention, care, and precision. Choquette & Co. Accounting Group Inc. extends their services to both personal and corporate clients, emphasizing accessibility and comprehensive support. Additionally, their contributions to the literary world are noteworthy, as they are responsible for the publication of over 30 books across various publishers, including Prentice Hall. To accommodate diverse client needs, they offer a variety of virtual appointment options.

UNIQUE FACTS:
• Accountants Are Fully Vaccinated
• On-Site Mobile Office
• Facetime Appointment
• Google Meet Appointment.
Specialty:
Business Purchase, GST and HST, Financial Statements, Business Plans, Bookkeeping, Succession Planning, Business Start and Formation, Accounting, Taxation Services, Corporate Taxation, Rental, Businesses and Computer Consulting, United States Personal/Corporate Financial, Estate Planning and Taxes, Farming, Personal Income Tax Including Investments & Self Employed
Contact:
Working Hours:
TBR® Inspection Report: