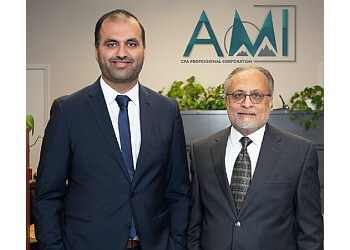 A.M.I. CPA, Professional Corporation emerges as a comprehensive accounting entity. The firm offers a wide-ranging assortment of services tailored to accommodate the diverse requirements of businesses, entrepreneurs, and individuals. Boasting an impressive tenure of over 35 years in the realm of cost accounting and management accounting, Scott Gray is a seasoned professional at the heart of this practice. They possess the versatility to enhance your existing resources or bridge temporary gaps in accounting, payroll, and bookkeeping needs. With proficiency spanning both corporate and personal domains, the firm efficiently handles tax preparation for business proprietors, demonstrating particular expertise in personal, corporate, and estate tax-related matters. Notably, their innovative CFO for Rent™️ service empowers clients to select precisely the support they require, thereby optimizing business processes and facilitating enhanced take-home income. A.M.I. CPA, Professional Corporation extend their footprint beyond Oakville, also serving Burlington and the neighbouring regions, demonstrating their commitment to a broader geographical reach.

UNIQUE FACTS:
• On-Site Services
• Online Appointments
• Trusted Advisor
• Strategic Planning and Analysis.
Specialty:
Corporate Tax Preparation, Personal Tax, Budgeting Advice, Cash Flow Analysis, Business Plan Development, Financial Advisory & Bookkeeping
Contact:
Working Hours:
Mon-Thu: 10am - 230pm
Fri-Sun: Closed
TBR® Inspection Report: